Audi has showcased the e-tron in India months before its launch, which could take place as early as by the year-end. The company wants the future model to start building interest among prospective customers in the meantime. The right-hand drive version has entered production, but the company has displayed the left-hand drive version. The Audi e-tron is the first fully electric series-production model from the brand with the four rings. It is as conventional-looking as an EV gets. Size-wise, it sits between the Audi Q5 and Audi Q7, but it hasn't been named Audi Q6 as its pricing (TBA for India) doesn't work out accordingly. In fact, it's even more expensive than the Audi Q8 that slots above the Audi Q7.
The Audi e-tron is 4,901 mm long, 1,935 mm (excluding mirrors)/2,192 mm (including mirrors) wide and 1,616 mm (without roof-mounted aerial)/1,629 mm (with roof-mounted aerial) tall. It has a 2,192 mm wheelbase and a 172 mm ground clearance. The luggage capacity is 660 litres and expandable to 1,725 litres.
The Audi e-tron sits on a modified MLB Evo platform, which underpins even the Audi Q5, Audi Q7 and Audi Q8. The uber-cool zero-emission SUV has two electric motors, one at the front and one at the rear, and that leads to all-wheel drive drivetrain layout. These motors generate a system output of up to 300 kW (408 PS) and 664 Nm of torque. They draw energy from a 95 kWh lithium-ion battery pack that gives a range (WLTP test cycle) of 411 km. A 0-100 km/h sprint takes 6.6 seconds/5.7 seconds (with boost), while the top speed is capped at 200 km/h.
The above specifications refer to the units produced for Germany, and most of them will apply to the units manufactured for India. This is because the Audi e-tron is arriving in India under the relaxed import norms that allow automakers to up to 2,500 CKD/CBU imports without local homologation irrespective of their FOB value (and engine capacity, which is irrelevant in this case), provided they are compliant with an international standard (EEC/ECE/Japanese). So, whatever specs and features have been approved in Germany, will be legal in India. This also means that our market will get the e-SUV with virtual exterior mirrors.
In addition to virtual exterior mirrors, the output of which is displayed on high-contrast OLED displays mounted in the doors, the Audi e-tron features Matrix LED headlights, LED rear lights connected via a light strip and 19/20/21-inch aerodynamic wheels on the outside. Interior highlights include Audi virtual cockpit, MMI touch response operating system with 10.1-inch upper display and 8.6-inch lower display, four-zone auto AC, sport seats and 705-watt, 16-speaker Bang & Olufsen Premium Sound System.
The standard mobile charging system offered with the Audi e-tron can be used to charge the battery pack at 2.3 kW when connected to a 230-volt household outlet, and at up to 11 kW when connected to a 400-volt three-phase outlet. Using the latter, the battery pack can be fully recharged in approximately 8.5 hours. There is an optional charging system that requires a second charger on board, and it doubles the charging power to as much as 22 kW.
The Audi e-tron will be imported to India via the CBU route from Belgium, where the production takes place at the world's first CO2-neutral plant in Brussels. 200 units will be imported for the first year of sale. There will be an 8-year warranty for the battery pack. Expect select dealerships to have a 150 kW fast charger as well, using which, 80% charging good for a range of 329 km (WLTP test cycle) can be achieved in just 30 minutes and a full charging can be achieved in just 48 minutes.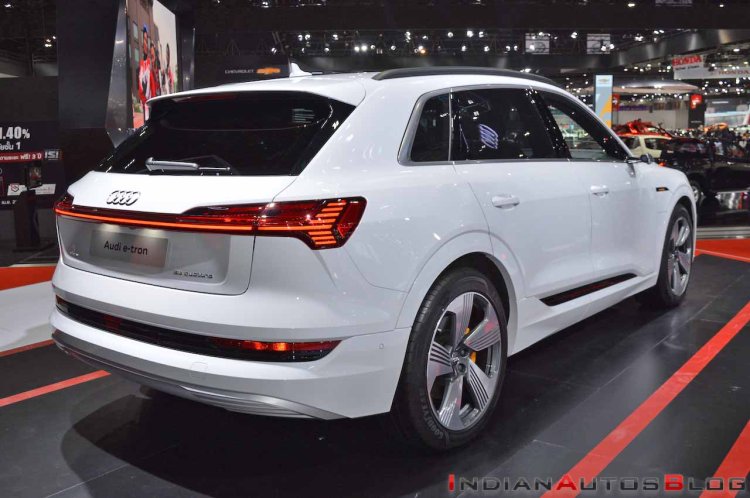 Also See: 2019 Audi Q7 vs. 2015 Audi Q7 - Old vs. New
The Audi e-tron will cost over INR 1 crore (ex-showroom).