Audi is showcasing its autonomous concept vehicle, the Audi Aicon at the 2017 Frankfurt Motor Show. Here are the concept's images from the show.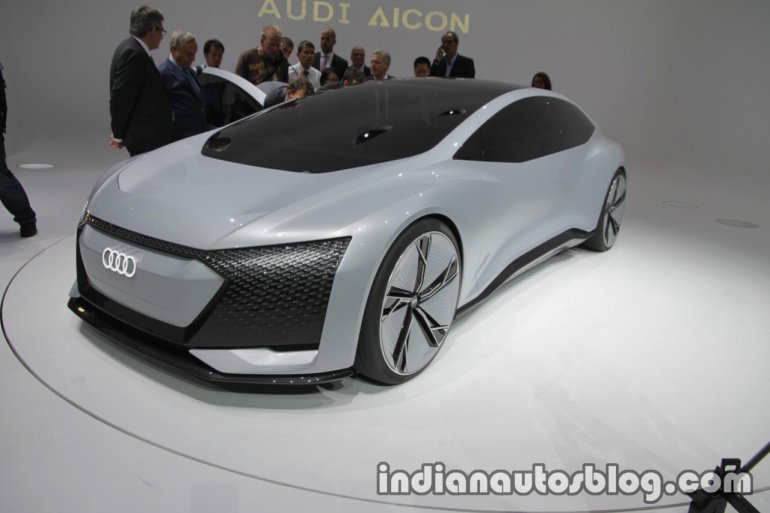 The Audi Aicon concept car employs an electric powertrain. The car is 5,444 mm long, 2,100 mm wide and 1,506 mm high. With a wheelbase of 3,470 mm, it is longer than the long-wheelbase variant of the new Audi A8. The car gets convex windows, and a distinct edge runs as a hard line along the side window surfaces back to the D-pillar – a first in automotive design. The flared wheel arches house the huge 26-inch wheels. Instead of a conventional lighting system, the car employs fully digital display surfaces comprising hundreds of triangular pixel segments.
Also Read: Audi Q8 Spotted up close in China
The car features opposed doors and the B-pillars are absent for maximum spaciousness. The 2+2 seater car does away with steering and pedals. The dashboard is absent as well. The front display lights up with a welcome message. PIA, the electronic vehicle assistant, recognizes the passenger by his/her phone and activates all of his/her personal settings. Both the front and the rear get storage compartments, with a combined capacity of approximately 660 litres.
Also Read: Audi Q7 Petrol launched in India at INR 67.76 lakhs
The concept vehicle is capable of comfortable cruising at 130 kmph for long distances. Speaking about the range, the car can achieve between 700 and 800 km on a single charge. The solid body batteries are integrated into the area below the floor. They have considerably more energy capacity than lithium-ion batteries.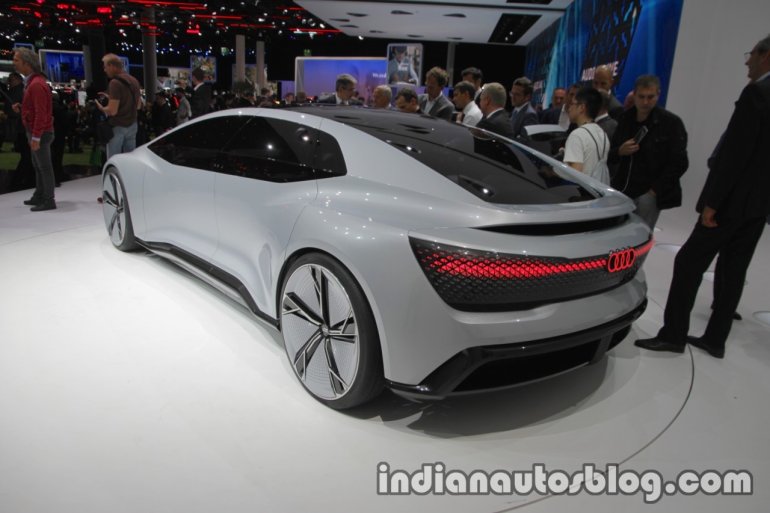 The Aicon's 800-volt battery unit can be charged to 80 percent in less than 30 minutes. A total of four electric motors are located in the area of the front and rear axles. The motors are capable of giving out a total of 353.5 PS of power and 550 Nm of torque. There's a fully active suspension system and regenerative braking system as well. Audi claims that the car will not need classic restraint systems, thanks to the highly advanced sensor systems and networking.