Priced at INR 9.15 crores ex-showroom New Delhi and Mumbai.
Following the launch of the BMW 760 Li High Security and the Mercedes-Maybach S600 Guard, Audi has launched their version of the armored sedan, the A8L Security at the Auto Expo 2016. Essentially, it's a bullet and bomb-proof version of Audi's flagship with features for safely tackling high risk situations for persons like world leaders, diplomats and heads of state, who the car is targeted at.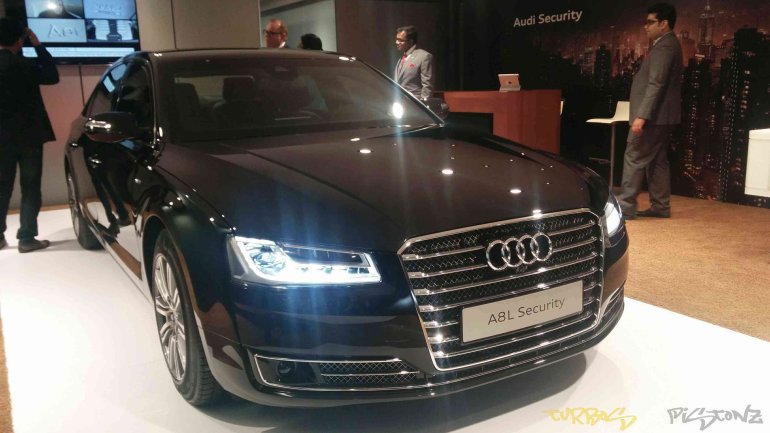 The engines on offer are the 4.0 TFSI Bi-turbo churning out 435 hp and 600 Nm of torque and a W12 naturally aspirated engine offering 500hp and 625 Nm of torque (on display). The top speed is limited to 210 km/h because of the special run flat tyres that, which when completely deflated, is good to travel 100 km at a maximum speed of 80 km/h. Even with the additional weight due to the armoring, the car is capable to handle a maximum payload of 600 kg.
Compared to its predecessor, the new A8L Security holds the same VR9 bullet and blast-proof level but various additions like a more frugal 4.0 TFSI bi-turbo engine, special aluminum alloys, use of aramide fabric and hot-formed steel armor sets it apart.
The car comes with a host of standard features like selective door unlock, armored case in the trunk housing an emergency battery, telephone, intercom, emergency cabin air supply tanks and fire extinguisher tanks. The intercom can be used to communicate with the outside world via a loudspeaker housed in the single frame grille and interior and external microphones. The fire extinguisher system engages with the push of a button or via heat sensors activating extinguishing agent through pipes in the underbody. Nozzles then spray it into wheel arches, underbody and fuel tank. The emergency cabin air supply overpressures the cabin preventing the outside air to enter in case of a toxic gas attack.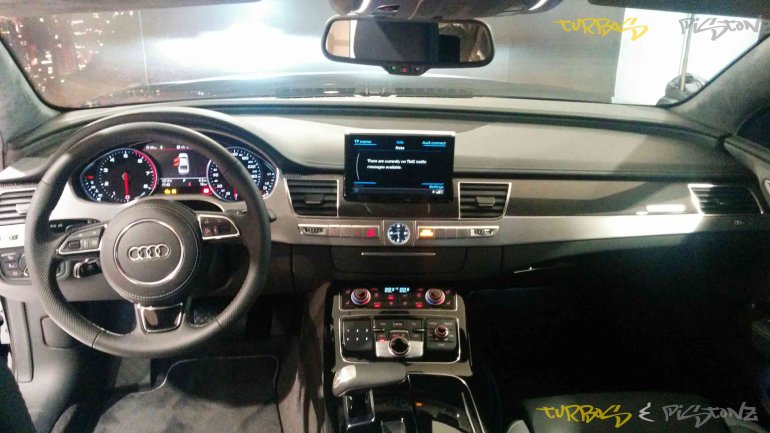 Audi holds the patent for the emergency exit system which can be engaged with the push of a sealed button in addition to pulling the door handle and pyrotechnic in the hinges and locks which will literally blow the door off to provide a safe exit path for the occupant in a crisis.
Optional extras include a security start that allows the user to start the engine via radio signal from a distance, LED signaling system for convoy driving, strobe lights, siren, preparation and installation of analog and digital radio communications with public authorities, permanent telephone installation, accident data logger, additional rear camera, heated windshield and partially heated side windows.
[Source - TurbosandPistonz]