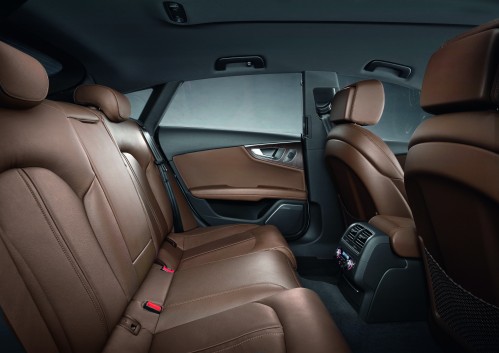 The utterly gorgeous Audi A7, revealed last month, is one important car for Audi. Audi has ambitious plans to overtake BMW & Mercedes Benz to become the world's no. 1 luxury car maker by 2015. The car has gone on sale in Europe and the company says that it is a highly profitable car and VW's mass production facilities has helped it price the A7 competitively.
Now the A7 is expected to hit the Indian shores sometime next year and the car is expected to be priced upwards of 65 lakh rupees. The thing is that the A7 is a driver focused car. It is as Audi puts it 'a family car with sportiness.' The car seats 4, and is not a limousine like the A8 or might not be as comfortable as an A6.
When people in India use even a 1 lakh rupee Tata Nano as a chauffeur driven car, it is very well known that people spending 65 lakh on a car will occupy the backseat. Very few people purchase such an expensive car to enjoy its drivability. This is why Audi will sell the A8 in the long-wheelbase form only in India.
The BMW GT, the chief competitor of the A7 has sold in minuscule numbers in the Indian market. Audi knows that the A7 too will be a niche product and will find very few buyers in a market like India.
Nonetheless in order to achieve the global no. 1 position Audi needs to have presence in a growing market like India. It constantly needs to add a unique product or two its portfolio to keep it interesting. The A7 is one car that falls under that category.