The Auto Expo today witnessed the introduction of the Audi A3 Sedan. When it goes on sale in India, it will be the smallest and most affordable model in Audi India's range. Built on parent VW's MQB platform, the A3 Sedan was unveiled to the world in April last year at Auto Shanghai 2013.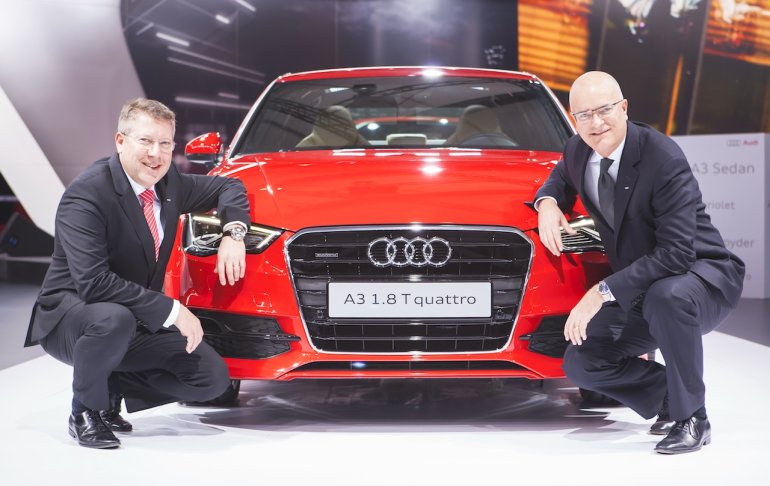 The A3 Sedan is offered with three engine options in Europe – 1.4L TFSI, 1.8L TFSI and 2.0L TDI. The 1.4-liter TFSI makes 140 hp and 250 Nm and is paired to a seven-speed automatic transmission, the 1.8-liter TFSI makes 180 hp and 250 Nm and is paired to the same gearbox, while the 2.0-liter TDI churns out 150 hp and 320 Nm and is matched to a six-speed manual gearbox. A performance oriented S3 Sedan is also available in Europe.
The car brought to the show features the 1.8L TFSI engine. We expect the A3 Sedan to have a starting price of below INR 25 lakhs.
Joe King, Head of Audi India, said -
The introduction of the Audi A3 Sedan, underlines our understanding of the Indian customer. This car will open a new customer segment and bring more and more fans into the Audi family. The Audi A3 Sedan is a car that reflects technology, everyday suitability and comfort but most of all true luxury.
Audi A3 sedan at Auto Expo 2014 - Image Gallery
Audi A3 Sedan Press Release
[Can't see the press release here? Head over to SlideShare]