Entry level luxury SUVs – BMW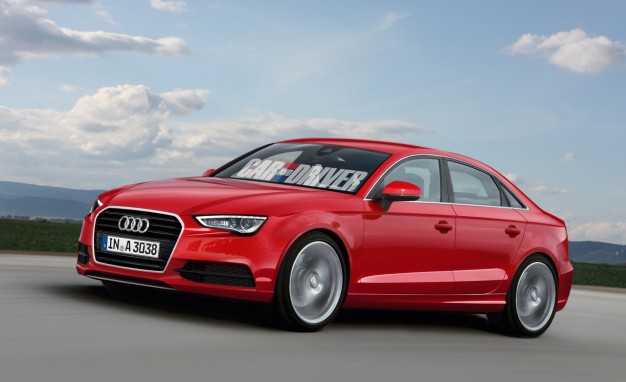 X1, Audi Q3 and Mercedes GLA – Check!
Now it is time for entry level luxury sedans to take center stage.
Mercedes recently revealed the CLA sedan that will sit under the current Mercedes C-Class. Audi has also sensed the opportunity and is developing a new entry level sedan based on the A3's MQB platform. The new 1 Series sedan is also taking shape somewhere in Bavaria.
The new Audi A3 sedan will be Ingolstadt's entry level sedan based on the A3 sedan concept showcased at the 2011 Geneva Motor Show. This all new sedan will sit below the A4 featuring slightly bigger wheelbase and more interior space than the donor A3 hatchback
Our friends at CarandDriver report that Audi will also develop a cabriolet version of the sedan for wind-in-your-hair motoring enthusiasts. Being based on the MQB platform, we can safely assume that it will be either front- or all-wheel drive.
Engines will be sourced from VW's inventory, there will be a 2.0L TSI or a 2.0L TDI on offer. In the distant future, there will also be a S3 cabriolet and an RS3 version.
It is likely to come to market in late 2014 or early 2015 with a price tag of sub USD 40,000 (under 21 lacs INR)
Audi has charted a growth path to be a leader in the luxury segment by 2020. The earlier target of dethroning BMW by 2015 was a bit too ambitious for the Ingolstadt giant. Hence, they had to extend it by 5 more years. Surprisingly, even Mercedes has set exactly the same target for itself. But there is a very good chance that the backing of Volkswagen Group will aid Audi in reaching the top slot sooner than rival Mercedes.
Audi will invest 17 billion dollars till 2016 in new products, new plants and new marketing activities. The aim is to sell 2 million cars and SUVs by 2020 and with these new and exciting entry level products, it hard to see what they can't achieve their goal.
[Source: Caranddriver.com]