Ather Energy has commenced the deliveries of its leased scooters in Bangalore. Currently, the leasing program is only available in Bangalore as the company operates in one city. Ather Energy has partnered with Autovert for the lease program. The first leased scooter, an Ather 450, was delivered to the customer in the city.
Also read: Hero Electric announces exchange offer to boost sales
As per the new program, Ather Energy would offer the 340 and the 450 electric scooters, for a period of 13 and 36 months. To opt for the electric scooters, potential customers would have to pay a minimum deposit of INR 30,000 for the Ather 340 and INR 40,000 for the Ather 450. Users would also have to pay monthly or quarterly rent for the electric scooter. The premium scooter among the two, the Ather 450, comes with a home charging point while the 340 gets a charging cable.
| | | |
| --- | --- | --- |
| Model | Deposit Amount | Rent |
| Ather 340 | INR 30,000 | INR 3,977 |
| Ather 340 | INR 65,000 | INR 2,274 |
| Ather 450 | INR 40,000 | INR 4,220 |
| Ather 450 | INR 75,000 | INR 2,517 |
At the end of the term, the user can either opt for the refund of the deposit after returning the scooter or purchase the vehicle for an additional amount that could vary depending on the deposit and rent program. It is to be noted that Ather Energy would return a part of the deposit if the vehicle is leased for a short time period. For example, a user who has leased a vehicle for 13 months would get 60 per cent refund of the down payment.
Ather Energy would cover the service and replacement of spare parts. For reference, the on-road price for the Ather 450 is INR 1,27,730, while the Ather 340 retails at INR 1,12,730.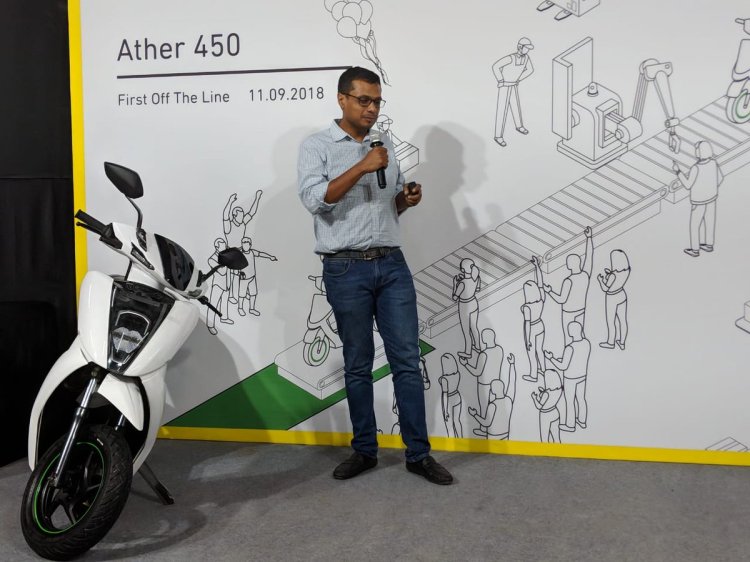 Also read: Bajaj Urbanite electric vehicle brand to arrive within 9 months - Report
In other updates, Ather Energy plans to expand operations into Chennai and Pune with a new round of investments. A report last December stated that Ather Energy would get INR 200-300 crore funding over the next year to expand into Chennai and Pune. The company would look for another round of investment to expands its reach further. The added investment would also aid the company in enlarging its production capacity to cater to the new cities.