The first fruit from the Nissan-Ashok Leyland JV has ripened and is now ready to be picked. Ashok Leyland has finally launched its flagship LCV Dost as a price of Rs. 3.79 lakhs to Rs. 4.37 lakhs (ex-showroom – Mumbai). IAB was keenly following the development of the DOST ever since the project began. A lot of our loyal readers have spotted the Dost in its various avatars religiously doing its testing rounds.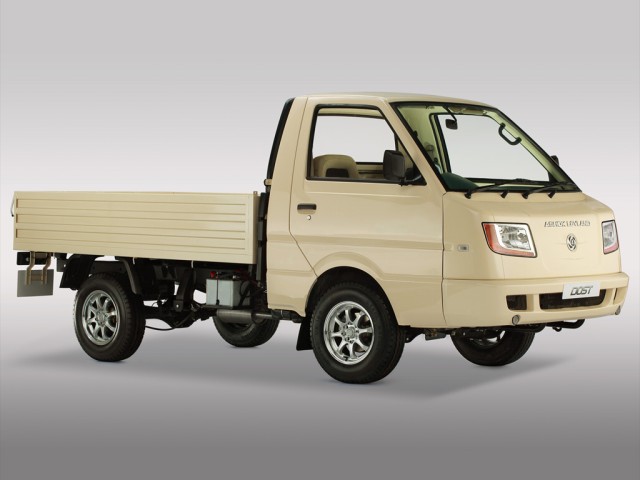 The Dost has a payload capacity of 1.25 tones and is powered by a 1.5 litre, 3 pot, common rail TDCR generating 55 bhp and 150 NM of torque. It is mated to a 5 speed manual transmission. Its turning radius is 4.8 m, and it has special features such as front Transverse leaf suspension, Load Sensing Proportioning Valve (LSPV) technology measures the weight on the load body and applies the brake force accordingly. It will be offered in BS3 and BS4 versions each having 3 different variants such as:
base model with manual steering
mid model with power steering
top-end model hosting luxuries like air conditioning, power steering and attractive dual tone interiors
The prospective customers can choose from three colours: white, beige and blue. Adding to that Ashok Leyland will offer Ready-to-Use Vehicles (RUVs) on the Dost platform for various applications such as Refrigerated containers, Steel containers, Ambulance, Aluminium Fixed Side Decks and Service-At-Site vehicles from the date of launch.
Initially, the Dost will be launched in the 4 Southern states  namely Tamil Nadu, Karnataka, Andhra Pradesh and Kerala. Later, it will be launched in Gujarat and Maharashtra followed by a nationwide launch.
Ashok Leyland Dost Image Gallery
[nggallery id=90]