ASEAN NCAP recently carried out crash testing of the India-made Renault Kwid sold in Indonesia and announced the results this morning. The agency has awarded the Renault Kwid a zero star crashworthiness rating.
As per ASEAN NCAP's methodology, the Renault Kwid scored 10.12 points when it came to Adult Occupant Protection (AOP) and 14.56 points under the Child Occupant Protection (COP) category. The lack of any Safety Assist Technologies (SATs) meant that the Kwid drew a blank against this category. As tested, the hatchback has a single driver's side airbag only. A cumulative score of 24.68 points resulted in ASEAN NCAP awarding it a zero star rating.
Commenting on the disappointing result, Global NCAP Secretary-General, Mr David Ward called out Renault's double standards and questioned its decision to sell structurally inferior versions of the Kwid in South East Asia compared to Latin America where the hatchback received 3/5 stars.
ASEAN NCAP Secretary-General, Ir. Dr Khairil Anwar Abu Kassim said -
What is more disappointing is that these cars are sold in countries that recorded one of the highest numbers of road fatalities; in which WHO published Thailand with 14,059 fatalities while Indonesia had 26,416 number of road fatalities.
Renault Kwid has performed poorly in crash tests in the past. Results published by Global NCAP in May 2016 awarded the car a zero star rating. However, a re-test in September helped the Kwid improve its score to 1.5 stars.
Renault manufactures the Kwid at the Renault-Nissan Alliance run manufacturing facility in Tamil Nadu. The production taking place here caters to markets like South East Asia, South Africa, and of course, India.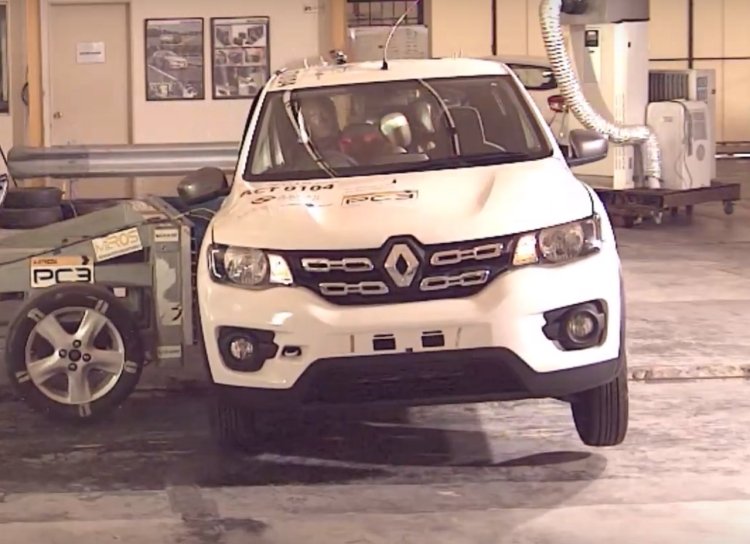 In India, the Renault Kwid is sold with 0.8 L and 1.0 L petrol engine options. Both get a 5-speed manual transmission as standard while the latter is also available with a 5-speed AMT. Regarding safety equipment, there is only a driver's side airbag available. The Renault Kwid 0.8 is priced at INR 2,66,700 - INR 3,82,500. The manual variants of the Kwid 1.0 L retail for INR 3,57,900 - INR 4,04,500 while the Kwid AMT costs INR 3,87,900 - INR 4,34,500.