By Kaustubh Shinde
What is the one common thing between the Lamborghini Gallardo, The Ferrari 458 Italia and our very own Tata Nano
They spontaneously catch fire!
Another Nano has caught fire in front of the MCD office in south Delhi on Friday. Fortunately, no one was injured in this accident. An onlooker explained that there were sparks coming from the rear of the car and as soon as the ignition was turned on, the flames emerged from near the engine and went on to completely engulfed the car. The fire fighters were rushed in but by that time the car was destroyed almost beyond recognition.
This will be the 6th one to be involved in such an incident. Previous events happened in Mumbai, Lucknow, Delhi and Vadodara.
Debasis Ray, the spokesman for TATA motors -
We will find out why this incident has taken place and, if necessary, take all requisite steps. While this incident has taken place, you need to acknowledge that there are thousands of Nanos running absolutely normally. We have also launched a subsequent program to inspect all the Nano cars already sold to customers
The company has managed to sell more than 50,000 Nanos since the deliveries began in July 2009. It has also built a dedicated plant in Sanand, Gujarat to meet the rising demands. It is also about to open a second round of bookings in a phased manner.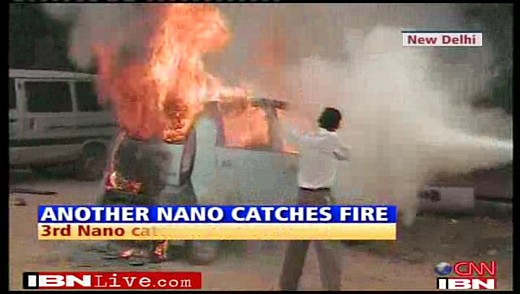 News Source - India Today
Image Source - IBN Live