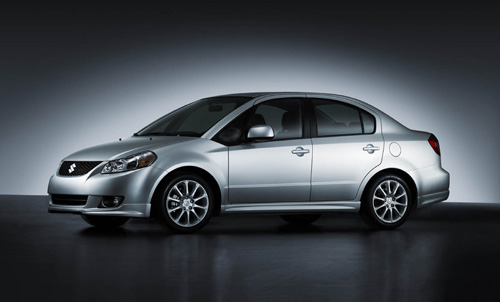 The SX4 was first developed as a compact car jointly by Suzuki and Fiat and was introduced at the 2006 Geneva Motor Show. The car began production at the Japanese company's Hungary plant. Fiat simultaneously sells the same car, rebadged as the Sedici, in several global markets.
According to sources in Fiat India, the SX4's success in this market has meant that Fiat is not looking to launch the Sedici in this part of the world.
Meanwhile, a Maruti Suzuki's official spokesperson said that the understanding with Fiat is only for the European markets and that in "many markets", both cars can sell alongside each other. "Suzuki has contract manufacturing understandings with companies like Subaru and Opel in Hungary, Mazda and Nissan in Japan where they make cars for these companies," said the source.
Ever since its launch, the SX4 has been a success in the mid-size sedan market. Maruti Suzuki has now been able to match demand for the sedan and does not plan to introduce the hatchback version of the car in India. Initially, only 60,000 units of the car were to be produced, two-thirds to be sold by Suzuki and the rest by Fiat. Although originally intended solely for the European market, versions of the car are sold in Japan, India, South America, Australia and North America
The SX4's success has helped Maruti Suzuki's numbers in the A3 segment. In the first quarter, the company increased its share of that pie to 26.4% from 21.2% in the first quarter of the last financial year. This is largely on the back of the SX4 which has sold over 36000 units since its launch in May 2007.
The SX4 has been competing with the Mahindra Logan and Honda City. And after the launch of SX4 the sales of the city has dipped down like anything.
For the Fiat India it's again a bad news. Already they are struggling to sell their cars here and this will add up more fuel into the fire. The launch of 500 isn't going to help them as it is a limited edition car. Fiat is planning big for the Indian market and some of the cars which are going to hit the Indian roads soon are Fiat Bravo, Punto and the Linea. Hope all these cars help in some kind of facelift of the Fiat. Sedici has also been a bestseller in its native Italy. Earlier this month, Fiat South Africa had clarified that it had no intention to release the Sedici on the South African market after Suzuki launched the SX4 there.
[ratings]