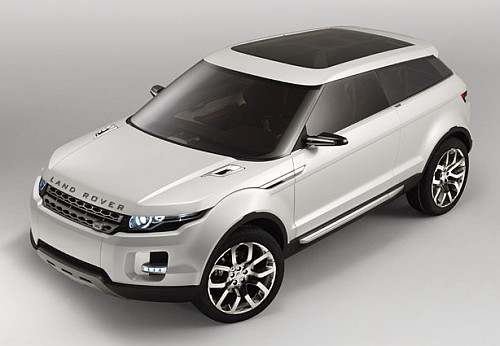 Land Rover's upcoming compact crossover-coupe Range Rover based on the stunning LRX concept displayed at the 2008 Detroit Motor Show will come to India shortly.
The new Compact Range Rover would be the first ever Land Rover to come only as two-wheel drive (2WD) avatar. Land Rover, which is the last word in off-roaders has always been manufacturing four-wheel drive vehicles since its inception in 1978. The new car, which is a cross between a crossover and a coupe, is slated to be the sportiest and most efficient Land Rover.
Phil Popham, MD, Land Rover -
Land Rover has announced that the all-new compact Range Rover will be available in 2WD. This is good news for the company and for our customers. A 2WD option is just one way in which we are developing our vehicles efficiency whilst adding to the Land Rover range and expanding our customer base.
The Compact Range Rover is the result of Land Rover moving towards a green future. This car which does away with the 4WD which would result in a lighter and more fuel efficient car. This new product is also an attempt to bring in new customers to the brand.
This car is slated for its European release in 2011 and could soon be brought to India. The Tata ownership of Land rover would ensure that the Indian market get new compact Range Rover soon. The car can be expected to reach Indian shores by 2011-12.
Land Rover is also reportedly working on a diesel-hybrid vehicle, 'Range-e' which has an 3.0l V6 diesel mated to an 8-speed transmission.
Source: Wheels Unplugged