Honda has released a YouTube video showing the evolution of the Honda Goldwing over the years. The end of the video shows the tagline "Discover #WhatLiesBeyond 10.24.17", hinting at the unveiling of the 2018 iteration of the tourer.
https://www.youtube.com/watch?v=jJbI56VL2Ck&t=27s
The Honda Goldwing was first launched in 1975, as a tourer. The motorcycle looked standard, but in 1980, Honda launched the GL 1100 Goldwing Interstate with fairing and saddle boxes, and trunk box as factory fitment. Over the years, it went through a series of design evolution and became swankier and even more comfortable. Honda last updated the motorcycle in 2015 and the update is due ever since.
Also Read: 3 Variants of the 2018 Honda CB1000R rendered – Report
Last month, images of the 2018 Honda Goldwing was leaked. The bike has undergone a sea of changes, which includes LED headlamps, redesigned instrument cluster, and suspension bits. Talking about the suspension, the front end comes with a Hossack fork. The Hossack fork uses a single shock absorber and offers better rigidity. This new set up is expected to improve the Goldwing's handling and make the steering lighter as well. Honda patented this type of fork for superbikes in December last year.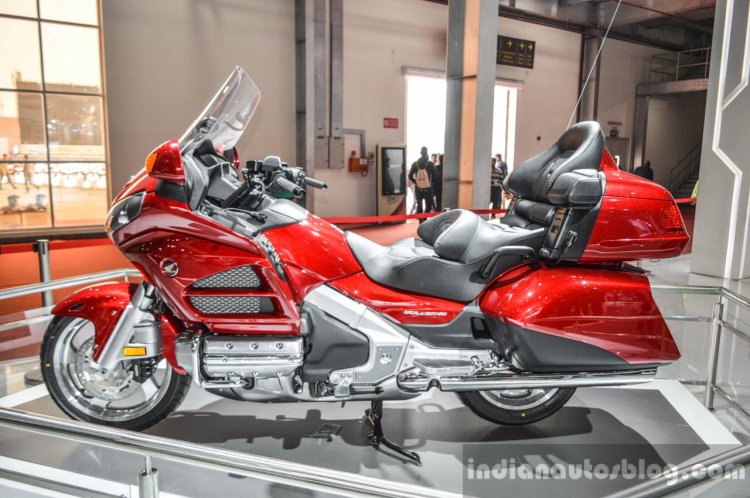 The flat-six engine might be Euro 5 compliant and expect DCT to make its way into the model, at least as an option. The unveiling of the 2018 Honda Goldwing is just a day before the 2017 Tokyo Motor Show. At the show, Honda will display Riding Assist-e; the 2018 Cub series and the 2018 Honda CB400 SF & Honda CB1300 SB as well. In India, the Goldwing retails at INR 29.95 lakhs, ex-showroom, Delhi. Expect the updated version to enter our shores next year.