The 2018 Dacia Duster (2018 Renault Duster) is now on sale in Europe. YouTube user Flaxhax has published a video comparing the 2018 Dacia Duster with the 2017 Dacia Duster.
The second generation Dacia Duster features an evolutionary design that makes it look more dynamic and upmarket yet instantly recognisable as the rugged budget SUV from Romania. On the outside, the redesigned model features sleeker headlamps integrated LED DRLs, more horizontal bonnet with sculpted crease lines, wider skid plates, bigger (17-inch) wheels, more steeply raked windscreen broader rear haunches and squarish tail lamps consisting of four red squares in the signature Dacia fashion.
Inside, the new generation Dacia Duster is plain and utilitarian but definitely a step above its predecessor overall. The all-new dashboard is more generously proportioned, the infotainment system is positioned higher (+74 mm), the controls are more user-friendly and modern, upgraded soundproofing materials have halved the cabin noise, EPS has made driving more relaxed, and there are a lot of other improvements in different aspects.
Dacia has improved the safety with enhancements to the SUV's structure and the introduction of new driving aids such as Blind Spot Warning, speed limiter system, automatic headlight activation and multi-view camera.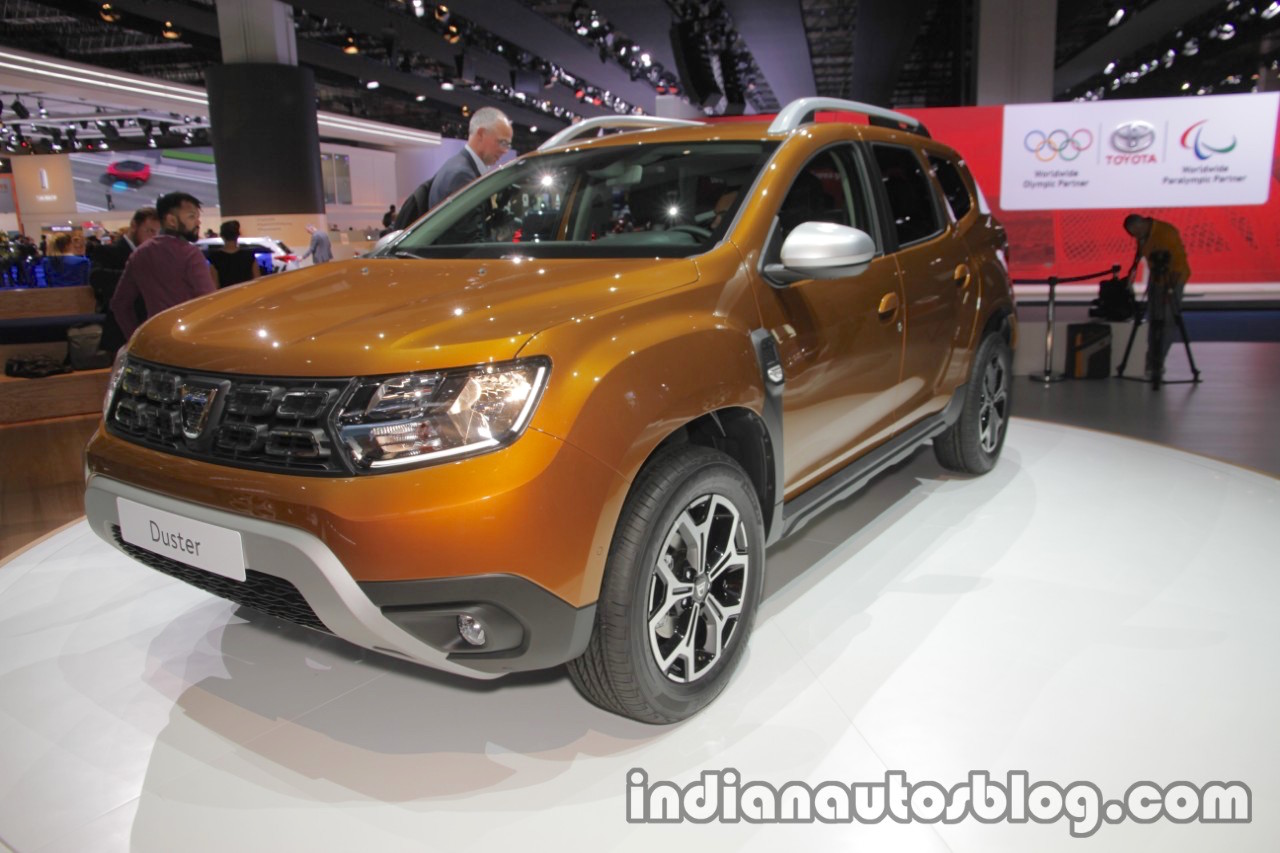 Also See: Renault's Maruti Ertiga competitor (Renault RBC) spied testing for the first time
The 2018 Dacia Duster is 4.34 metres long, 1.80 metres wide and 1.6 metres high. It has a 2.7-metre wheelbase. The redesigned model offers 210 mm of ground clearance and an approach, departure and breaker angle of 30°, 33° and 21° respectively. SCe 115 petrol/petrol-LPG, TCe 125 petrol, dCi 90 diesel and dCi 110 diesel are the engine options. 5-speed manual, 6-speed manual and 6-speed EDC dual-clutch automatic are the transmission choices. A 4WD system is available optionally.
In India, the second-gen Renault Duster could arrive as an MY2019 model sometime next year.