Volkswagen has showcased the 2017 VW Polo R-Line and 2017 VW Polo Beats at this year's Frankfurt Motor Show.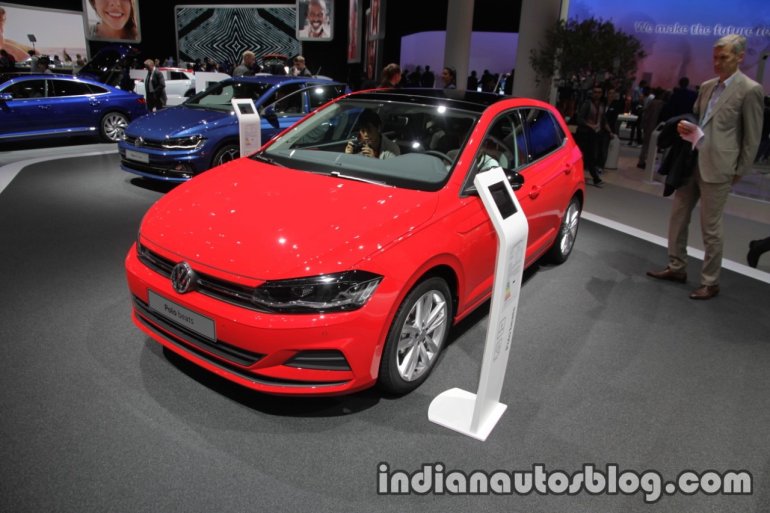 The 2017 VW Polo R-Line comes with exclusive exterior and interior features. Exterior updates include a roof spoiler; radiator grille in textured black; 16-inch 'Sebring' alloy wheels; front fog lights and side sill extensions in textured black. There is an R-Line diffuser at rear; air intake grille in textured black; R-Line badge on the radiator grille and on wings; R-Line front bumper in body colour with R-Line 'C signature' in high-gloss black.
Also Read: New VW I.D. CROZZ concept showcased at IAA 2017 – Live
On the inside, the car gets black cloth roof lining; small leather pack with contrast stitching; pedals in stainless steel; R-Line cloth upholstery with the badge embroidered on seat backrests and contrast stitching and R-Line door sill trims in front.
Also Read: VW up! GTI showcased at IAA 2017 – Live
The highlight of the 2017 VW Polo Beats is the inclusion of a 300-watt Beats sound system and various customised features on board that were developed jointly by Volkswagen and US-based audio specialist Beats. The hatchback gets 'Beats' decals on the B-pillars and the exterior mirror housings painted in black; decals on the roof; 'Beats' door sill trim and 16-inch burnished 'Torsby' alloy wheels.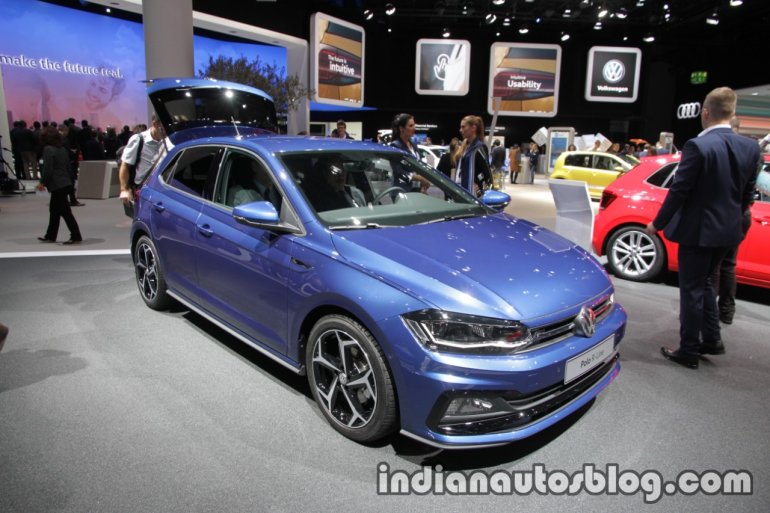 There's also a 'Beats' remote control key. Interior updates include dashpad in velvet red; floor mats with colour stitching; small leather pack (multifunction steering wheel, gear lever and handbrake lever); and seat covers in 'Tracks 2' design in Aqua Graphite/Velvet Red.
Although Volkswagen has not mentioned the specific engine options for the Polo Beats edition and the Polo R-Line, the complete list of the sixth-gen Polo's engine options is below:
Natural gas:
1.0 TGI2, 66 kW / 90 PS, 3-cylinder, 5-speed gearbox
Petrol engines:
1.0 MPI1, 48 kW / 65 PS, 3-cylinder, 5-speed gearbox
1.0 MPI3, 55 kW / 75 PS, 3-cylinder, 5-speed gearbox
1.0 TSI4, 70 kW / 95 PS, 3-cylinder, 5-speed gearbox / 7-speed DSG
1.0 TSI2, 85 kW / 115 PS, 3-cylinder, 6-speed gearbox / 7-speed DSG
1.5 TSI ACT2, 110 kW / 150 PS, 4-cylinder, 6-speed gearbox / 7-speed DSG
2.0 TSI2, 147 kW / 200 PS, 4-cylinder, 6-speed gearbox / 6-speed DSG
Diesel engines:
1.6 TDI2, 59 kW / 80 PS, 4-cylinder, 5-speed gearbox
1.6 TDI2, 70 kW / 95 PS, 4-cylinder, 5-speed gearbox / 7-speed DSG
2017 VW Polo R-Line at IAA 2017 - Image Gallery