Yesterday, Citroen unveiled the 2016 Citroen C3 as the car's third generation model. Here's how the (third generation) 2016 Citroen C3 is looks different from the (second generation) 2014 Citroen C3.
Exterior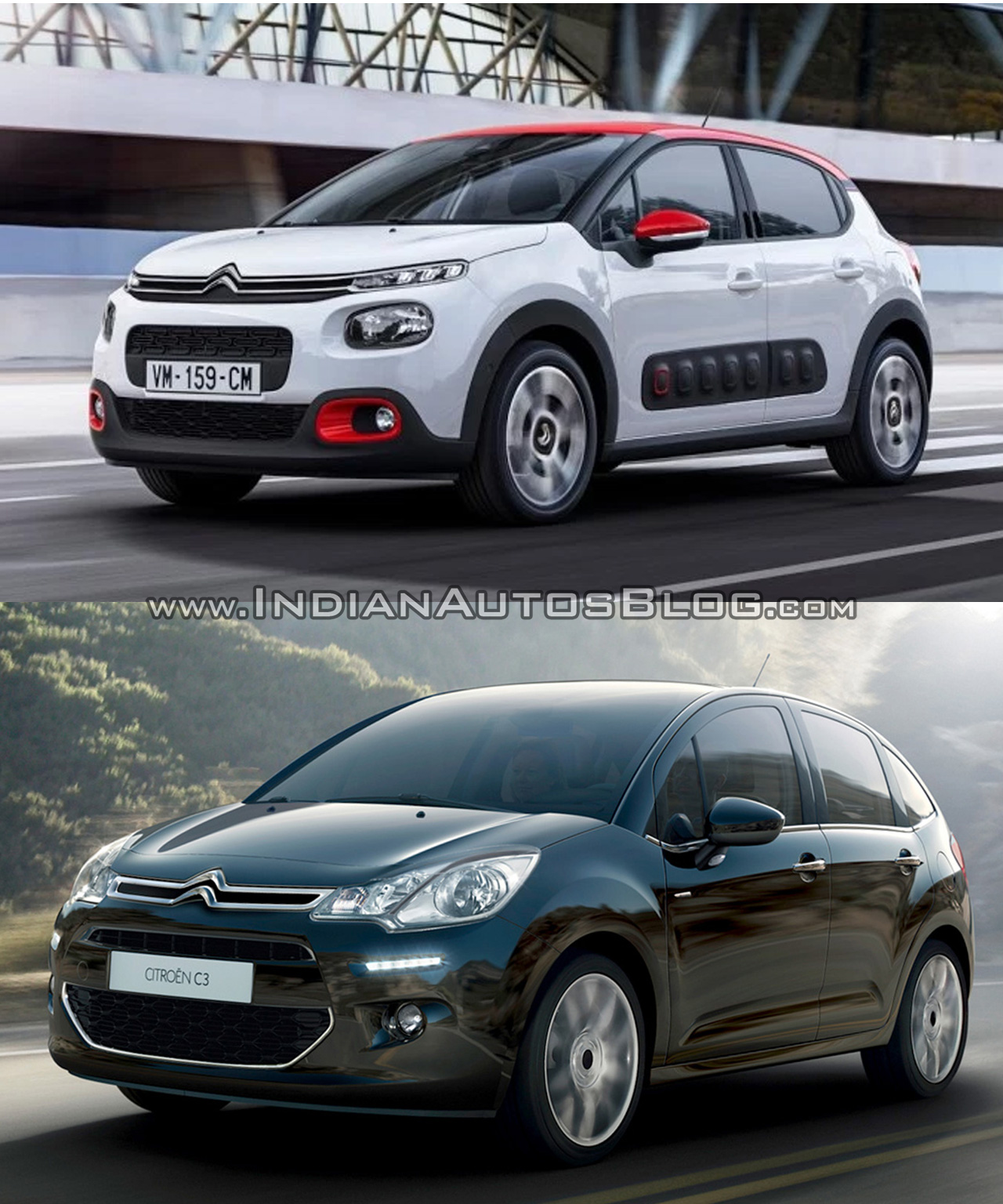 Citroen hasn't gone for an evolutionary redesign for the C3, it has completely revamped the car with a new shape that looks a lot more conventional for a B-segment hatchback. Unlike the previous C3 which looked like a typical french mini-MPV, the all-new C3 looks like a crossover-styled hatchback, thanks to the new body shape and the extensive black body cladding all around.
Up front, the round headlamps are topped by separate LED daytime running lights, the upper grille extends to the full width in a very subtle manner and the contrast colour for the foglamp surrounds give a funky appeal to the car right from the first look.
Moving to the sides, the familiar Airbumps are stuck to the lower portion of the door panels and have the roof colour accent to add a pinch of style to protection. The sleeker glasshouse, significantly shrunk and reshaped quarter glass and roof coloured door mirrors and the C-pillar graphic round-up the details on the sides.
At the rear, the 2016 Citroen C3 features new 3D tail lamps, new C3 badge, less curvacious back glass and redesigned tailgate and rear spoiler form the highlights.
Interior
Like the exterior, the interior is also completely new. The interior has been designed with inspiration from elements outside the industry, such as architecture, furniture, decoration, etc. The all-new C3 customer can specify the redesigned dashboard surround to be painted, wrapped with textile or TEP lining, with or without over-stitching, and a chrome or colour surround. This specification matches the seat material.
Two technology highlights are the Citroen ConnectedCam and the 7-inch touchscreen infotainment system. The 2016 C3 is the first car to feature the Citroen ConnectedCam, connected 120° wide angle full HD camera with GPS and 16 GB internal memory. It's not just a factory-fitted alternative to aftermarket dash cams, but also means of capturing scenic photos and other memories during the drive. The driver can immediately share the content captured using this camera on the social networks.
The 7-inch capacitive touchscreen tablet infotainment system features a new-generation satellite navigation system called CITROEN Connect Nav as well as Apple CarPlay, Android Auto and MirrorLink smartphone integration compatibility.
Mechanical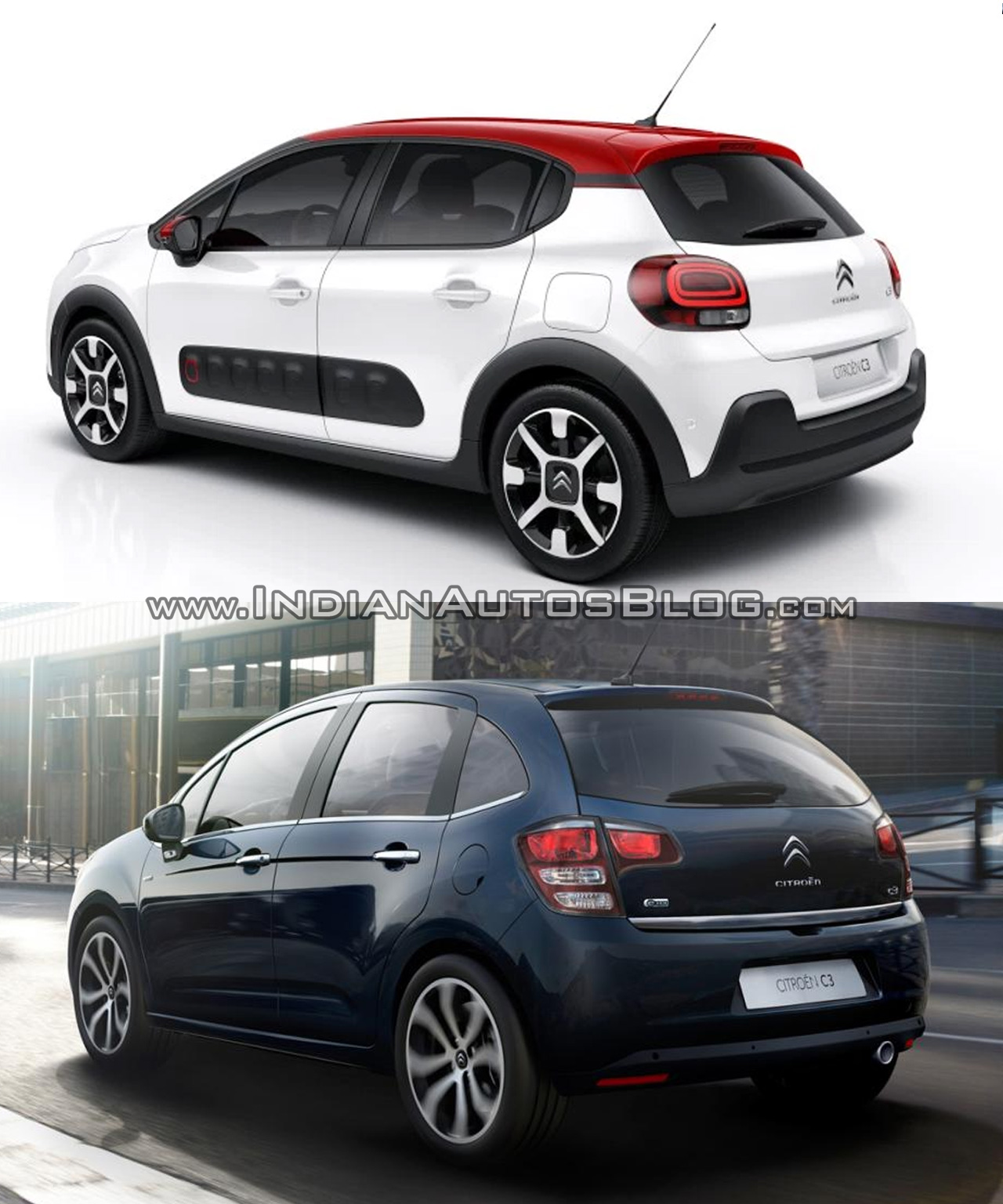 Also See: 2016 Citroen C6 – 2016 Auto China Live
The Citroen C3 has switched from the PSA PF1 platform (in its second generation) to the PSA Group A platform in its third generation. Model line-up include three PureTech petrol models, with manual transmission: PureTech 68, 82 and 110 (Stop & Start), and two diesel BlueHDi diesel models, with manual transmission: BlueHDi 75 (Stop & Start) and 100 (Stop & Start). The EAT6 automatic transmission model(s) will join the range shortly.