Could be launched in India in the following months.
Along with the highly anticipated second generation Audi R8, the German manufacturer will also unveil the 2016 Audi A4 at the Auto Expo 2016 on February 3, reports Autocar India. It could be launched in India in the coming months, priced between INR 35-45 Lakhs (ex-showroom). The sedan, which was unveiled last year, measures 4.73 meters in length and 2.82 meters in wheelbase, and the exterior boasts of a best-in-class drag coefficient of 0.23 Cd. Thanks to "an intelligent material mix and lightweight construction" in the MLB Evo platform, the overall weight has gone down by up to 120 kg compared to the current A4.
Inside, the new A4 is as equally feature-packed as top-end luxury sedans. It comes with an optional Virtual Cockpit instrument display as an optional equipment, an improved Audi MMI infotainment software with an 8.3-inch display, Bang & Olufsen Sound System with 3D sound, an Audi phone box with wireless charging, and a head-up display.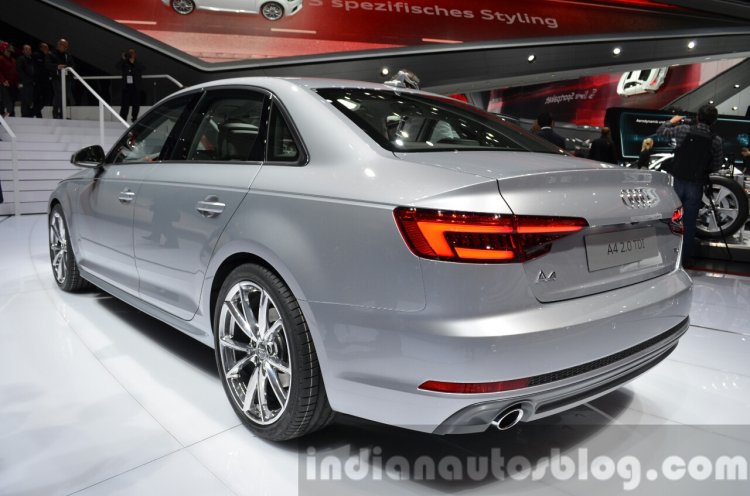 Also Read: Audi Q2, second-gen Audi Q5 debuts confirmed for 2016
The Audi A4 is available with four-cylinder TFSI engines (1.4 TFSI and 2.0 TFSI), four-cylinder TDI diesels (2.0 TDI), and a range-topping six-cylinder TDI diesel engine. Power output ranges from 150 hp in the base 1.4 TFSI variant to 272 hp in the 3.0 TDI quattro Tiptronic. Going by what is already offered, expect only the 2.0- and 3.0-liter units in the Indian-spec A4.
[Source: Autocar India]