First images of the 2015 Mercedes-Benz C Class have been posted on the web by Diariomotor. The new C Class is expected to premiere at the Detroit Auto Show next year and Mercedes have already posted one set of images showing the car's interior.
The new C Class (code - W205) appears like a scaled-down S Class. One of the leaked images shows the vehicle sporting an AMG kit.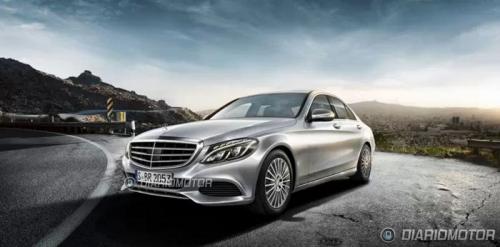 A huge amount of safety kit on the C Class would be borrowed from bigger Mercedes models. This includes a camera that can detect traffic in junctions, and self-steering technology.
The new C Class is based on a new platform Mercedes calls 'MRA'. The new platform would reportedly offer improved rear seat comfort, a larger boot and a lower kerb weight.
It is very likely that Renault's 128 bhp 1.6-litre diesel engine would be offered on the C Class. Mercedes' homegrown 2.0-liter and 3.0-liter petrol engines, as well as a 2.2-liter diesel engine would form the remaining lineup.
We're expecting Mercedes to announce the new C Class anytime now.
2015 Mercedes C Class leaked - Image Gallery