Part 2 of the comparison sees the refreshed Maruti Swift take on the Fiat Punto Evo, Nissan Micra, Toyota Etios Liva and the Chevrolet Sail hatchback (U-VA). You can see part 1 here.
Of the group, the Punto is the longest, the Swift and the Liva are the widest, and the Swift is the tallest. Thanks to its length, the Punto has the longest wheelbase of the lot. When it comes to luggage capacity, the Punto has the most capacious boot at 280 liters, followed by the Micra's and Liva's 251 liter boot, the Sail's 248 liter and finally the Swift's smallest 204 liter trunk.
2015 Maruti Swift vs Rivals - Diesel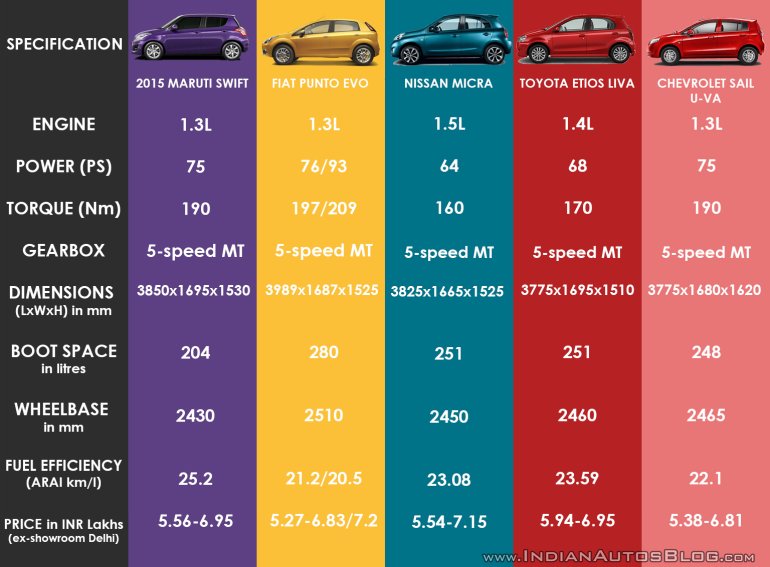 Among the 5 cars, the Swift, Punto and Sail are powered by the 1.3L Fiat Multijet engine. In fact, the Sail and Swift have identical power and torque outputs at 75 PS and 190 Nm. The most powerful car of the lot is the Punto Sport which comes in the higher 93 PS/209 Nm spec, and the least powerful is the Micra which, though is the biggest in displacement at 1.5L, produces only 64 PS and 160 Nm of torque.
All cars come with a 5-speed manual transmission. The Swift wins the fuel efficiency round of this comparison as well with 25.2 km/l, followed by the Liva, Micra, Sail and finally the Punto.
2015 Maruti Swift vs Rivals - Petrol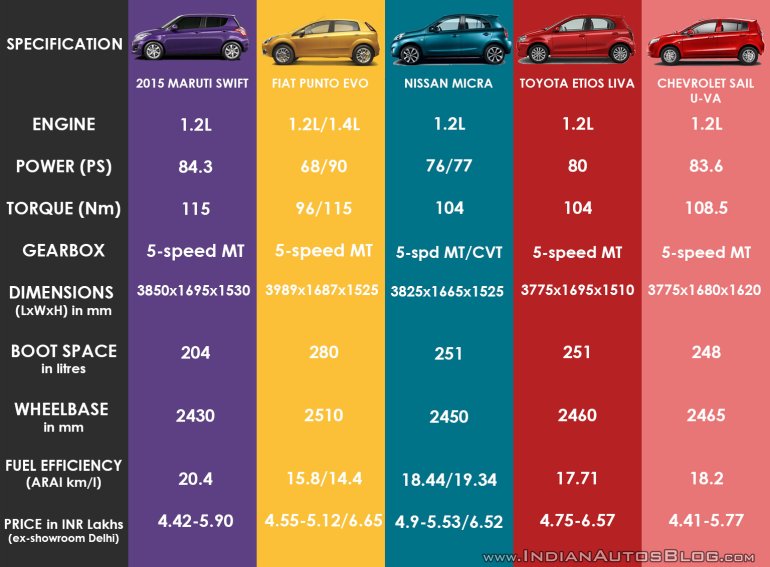 Save for the Micra's three-cylinder engine, all cars are powered by a four-cylinder unit with the Punto even getting a more powerful 1.4L engine in the Emotion trim. Setting aside the Punto 1.4, it's the Swift which makes the most power and torque of the bunch, while the Punto 1.2L is the least powerful.
A 5-speed manual transmission is seen in all cars, but the Micra is also available with a CVT. The Micra CVT comes close to the Swift's class-leading 20.4 km/l mileage and is followed by the Sail and Liva respectively. The Punto is the least fuel efficient of the group.
The Sail undercuts the Swift in pricing by INR 1,000 (petrol), and the Punto Evo is the most affordable buy in the diesel segment. At the same time, the Punto Sport 93 PS is the most expensive at INR 7.2 lakhs.
However, it must be mentioned that the Micra comes with a driver airbag as standard, while the Etios deserves more praise as it comes with driver and front passenger airbags as standard.