Will be called Daihatsu "Great New" Xenia.
Following the leak of the Toyota Grand New Avanza and Veloz, Daihatsu is also prepping their iteration of the Indonesia's best selling vehicle, dubbed as the 2015 Daihatsu "Great New" Xenia, which has been revealed in leaked official images.

The facelifted Daihatsu Xenia will be available in seven trims: Type R, Type R Sporty, Type X Deluxe, Type M Deluxe, and Type X, M & D. The facelift is nearly identical to the Toyota Grand New Avanza, right down to the larger grille.
The X, M, and D will be equipped with a dark silver grille, while the X Deluxe and M Deluxe features a full chrome radiator grille. The Type R version gets only chrome front grille, whereas the range-topping Type R Sporty gets a chrome slat in the radiator grille. The rear end gets updated taillamps similar to the Toyota Avanza.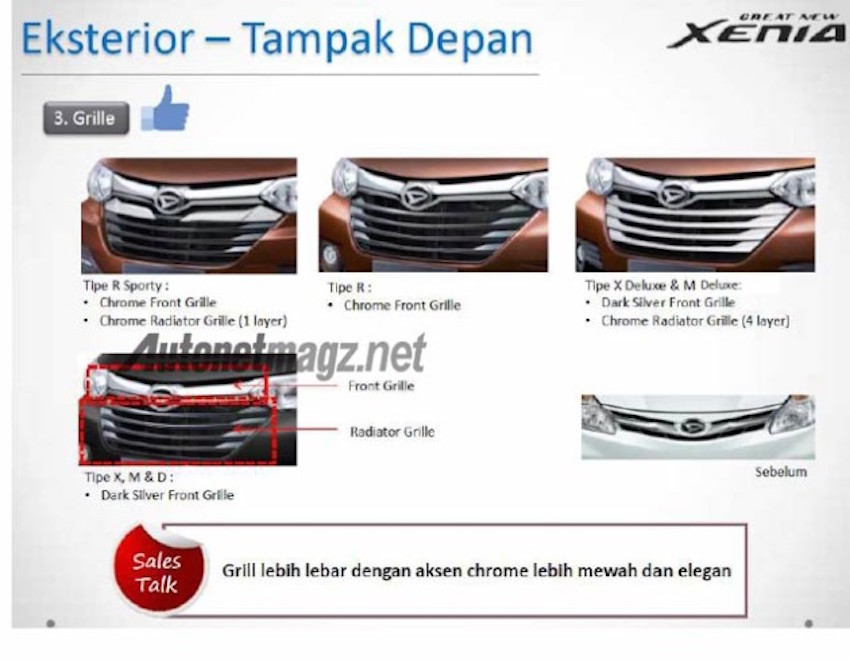 Inside, the Daihatsu Great New Xenia will largely be identical to its Toyota sibling, with the difference being the Daihatsu badge and interior color combination. It will come standard with rear HVAC, while a touchscreen infotainment system will be offered for the Type R Sport trim.
Powering the lower variants of the 2015 Daihatsu Xenia is a 1.0L EJ-VE 3 cylinder DOHC engine producing 63 PS and 90 Nm of torque, and higher variants pack a 1.3L 4 cylinder DOHC engine with a rumored power increase to 97 hp. Both engines are equipped with VVT-i.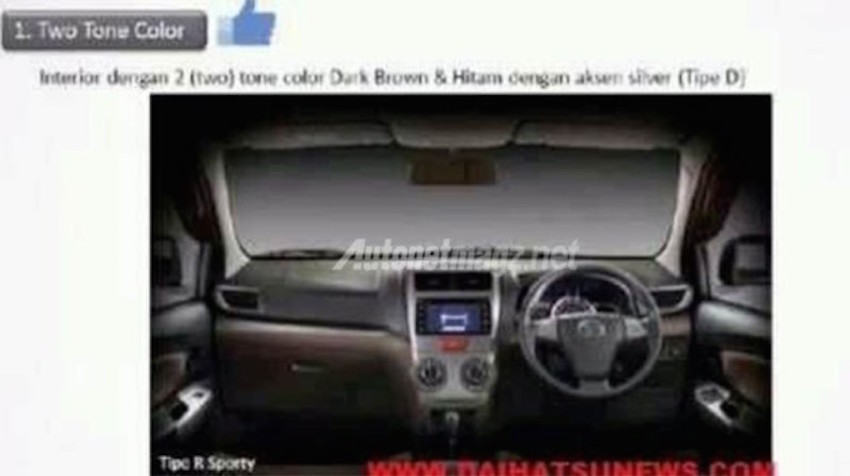 The 2015 Daihatsu Great New Xenia will be launched alongside the 2015 Toyota Grand New Avanza and Veloz at the 2015 GIIAS on August 20. As is before, the Daihatsu model will be priced lower than Toyota's offering.
[Source: Autonet Magz]