Nissan has removed the girlishness in the current Nissan Micra but in order to convince the fairer sex, the facelifted car is bestowed with the 'Sweet Pink' body color option. This way Nissan can keep both the boys and the girls happy.
Here are the first live shots of the 2014 Nissan Micra, coming to us from Thailand. The 2014 Micra was unveiled a few days ago ahead of its official debut at the Bangkok Motor Show this Wednesday. The facelifted car gets a new front fascia which is sharper than the car it replaces.
The bigger front grill bears the Nissan logo and the new signature chrome trough. The lower air dam and fog lamps are also new. Together they transform the way the car looks. The side is intact while the rear gets reprofiled tail lamps which now uses LED's.
The interior the center console is completely revised. It is finished in a glossy black with silver accents, and the displays sport amber backlight. The center air-con vents are now rectangular. The instrument panel has also undergone renovation.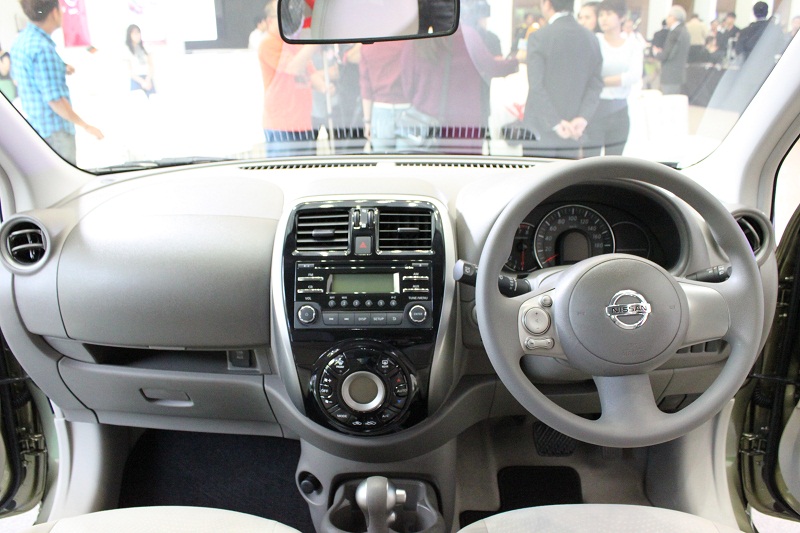 The 1.2-litre HRD12E petrol engine continues untouched and we expect the Indian version too to retain its engine options, that will include the 1.5 litre K9K diesel engine, exclusive to our region.
Regular Indian Autos Blog readers know that Nissan is working on the low cost version of the current Micra which will be pushed a segment lower to make way for the facelifted car. Nissan India has also confirmed the launch of the Micra AT for the next financial year, which we strongly believe would be bundled along with the goodies that come on the facelift.
[Source: 9Carthai.com]