The 2014 Mercedes S Class S 350 CDI competes with the refreshed Audi A8 3.0-liter diesel (the 4.2-liter diesel has not been included in this comparison), the locally-assembled Jaguar XJ diesel and the BMW 7 Series 730 Ld in this spec-sheet comparo.
Apart from the Audi, these luxury cars are locally-assembled in India by the manufacturer or parent company (in case of Jaguar). All of them feature a 3.0-liter six-cylinder diesel engine, in either a V6 configuration or a straight-six arrangement (in case of the BMW). The XJ is the most powerful of the lot, while the Mercedes makes the least amount of power.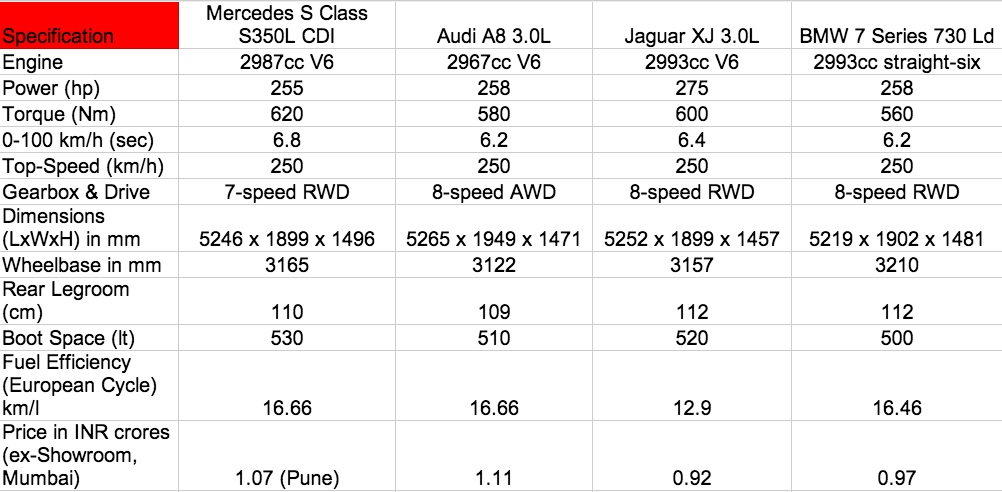 In terms of torque, the S Class makes the most at 620 Nm, while the 7 Series at 560 Nm makes the least. However, the 7 Series and the A8 are the quickest in the 0-100 km/h sprint, taking only 6.2 seconds, while the Mercedes is the slowest at 6.8 seconds. Save for the Merc, the competition use an 8-speed automatic transmission sending power to the rear wheels (all wheels in case of the Audi).
Coming to exterior dimensions, the Audi is the longest and widest in its segment, though inside, it has the least rear legroom at 109 cm. This maybe because the wheelbase of the Audi is the shortest at 3,122 mm, while the BMW has the longest wheelbase at 3,210 mm.
While most owners couldn't be bothered about the fuel efficiency, it's good to know that all cars, save for the Jag, can manage in excess of 16 km/l in the EU driving tests. Price wise, the Jaguar is the most affordable at INR 92 lakhs, while the Audi is the most expensive at INR 1.11 crores (ex-Showroom, Mumbai).