Images of the 2014 Honda Jazz (2014 Honda Fit) have started appearing on the internet and in Honda's dossiers . The next gen hatchback is slated to go on sale in Japan this September.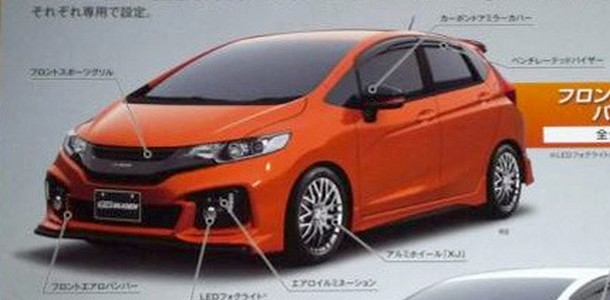 Here is some good news for the Honda enthusiasts! The catalog of the 2014 Honda Jazz Mugen performance version has been leaked on to the internet. Mugen does the performance cars for Honda, in other words, think of them as the AMG of Honda if you may.
The Jazz Mugen is available in two variants - RS (orange car) and S (white car). Both the variants come with accentuated and aggressively styled bumpers with front splitters, a full body kit, diffuser, centrally mounted exhaust tip, vents on the rear bumper, roof mounted spoiler and 17" multispoke alloy wheels.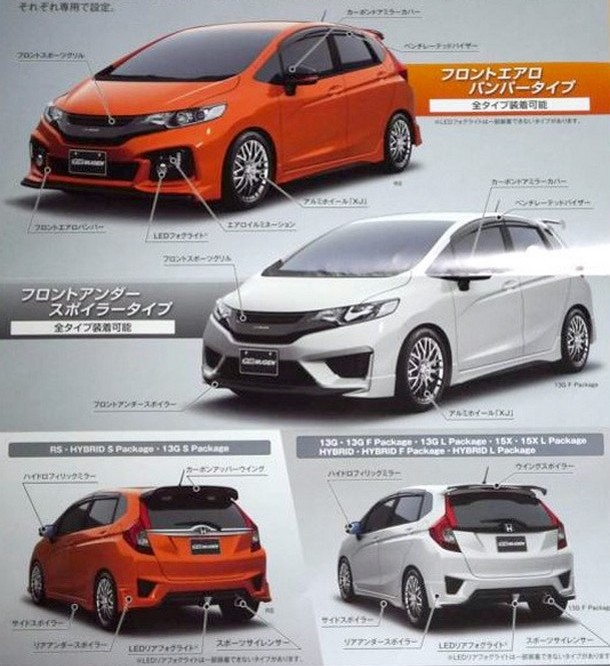 Understandably the RS version has a slightly more racier body kit compared to the S version. There is also a chrome cladding below the rear windshield in the RS.
The powertrain details of the new Jazz Mugen is unknown but expect the RS version to be a bit more powerful than the S. Apart from the beefy power outputs, the Mugen versions will also feature a sporty suspension setup with stiffer dampers.
The Honda Jazz Mugen is expected to be released a few months after the world premiere of the regular Jazz.
How do you like the new hot hatch?
[Source: Leblogauto.com]