BMW Motorrad has presented the 2014 BMW R 1200 GS Adventure, the BMW S 1000 R and the BMW R nineT for the first time at the 2013 EICMA in Milan, Italy today.
2014 BMW S 1000 R
The 2014 BMW S 1000R with 160 bhp and a power-to-weight ratio of 1.75 kg/kW made its world premiere today. This motorcycle can accelerate from 0 to 100 km/h in 3.2 seconds and has Race ABS and ASC as standard features.
2014 BMW R 1200 GS Adventure
The 2014 BMW R 1200 GS Adventure, BMW says, is targeted at "globetrotters, travel enduro aficionados and touring riders with a passion for off-road action."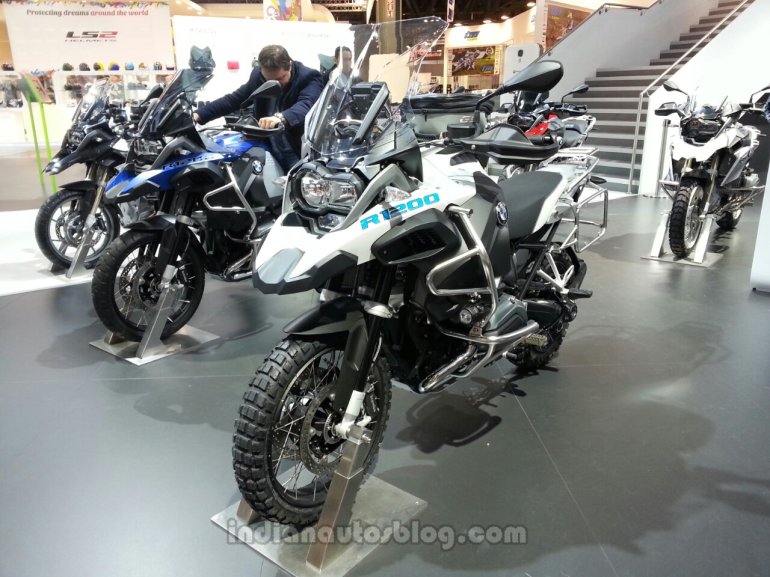 The 2014 model continues the 30 year tradition of being a performance motorcycle with touring abilities. It is powered by a liquid cooled 1,170 cc boxer engine with an output of 125 hp @ 7,750 rpm. A new cooling system designed for the 2014 model uses water instead of oil. The other changes are the engine's through-flow, which is now vertical for better power output, a six-speed gearbox that is built into the engine housing along with the wet clutch, a maintenance-free drive shaft located on the left hand side of the bike, flywheel mass whose weight has increased by 950 grams, and an extra vibration damper.
BMW R NineT
To commemorate ninety years of operations, BMW Motorrad is presenting the BMW R NineT motorcycle for its fans. The R NineT is a classical and naked motorcycle, with plenty of opportunities for customization.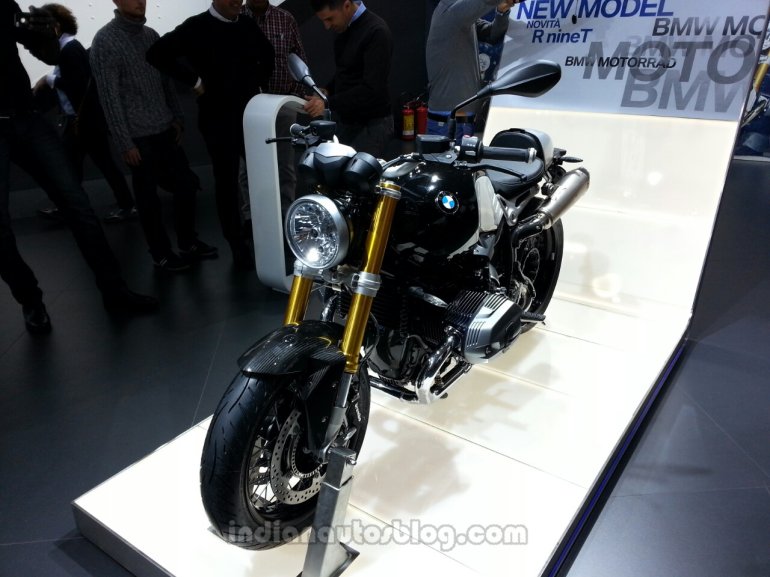 Similar to the first motorcycle BMW produced in 1923, the R 23, the R NineT uses an air-cooled Boxer engine that is capable of delivering 110 hp @ 7,750 RPM and 119 Nm @ 6,000 RPM.
The R NineT is said to have combined the brand's DNA from the past 90 years and its selling point is the wide range of customization options from the Original BMW Accessories line.
BMW R 1200 R "DarkWhite"
The BMW R 1200 R "DarkWhite" edition is BMW highlighting the sporty side of the 1200 R. The special edition brings out its dynamic aspirations with a color contrast on its body work. The special light white and black paint of the engine, transmission and wheels represents this intention. The motorcycle's frame is painted in Asphalt Grey, the rear axle casing and the fork are in matte black, while the fork legs sport an anodized black shade.
In addition to the two world premieres and the special edition, BMW has also presented the BMW C Evolution scooter that was revealed at the Frankfurt Motor Show in September, and the first inflatable rider airbag BMW calls the 'DoubleR RaceAir with D-Air® Racing Protector', created in collaboration with Dainese.
BMW Motorrad at EICMA 2013
[Can't see the document here? Head to Scribd]