Audi India launched the 2014 Audi A8L facelift recently. Here's a specification sheet comparison of how the A8 stacks up with its rivals. Note that Audi India have not passed on the prices of all variants to its dealers.
Petrol: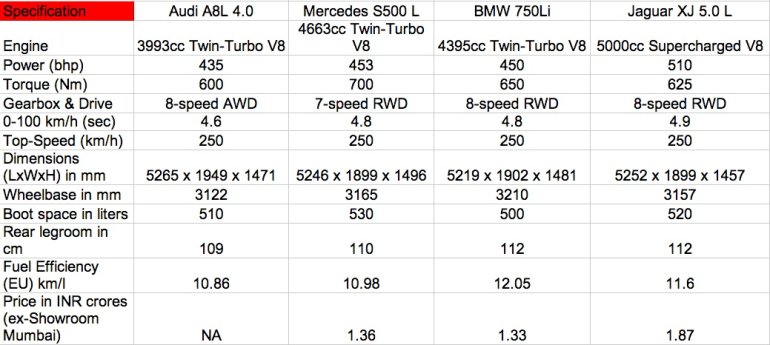 The A8L petrol comes with a 4.0-liter Bi-Turbo V8 engine and is down on displacement, power and torque compared to the S500L, 750Li and the XJ 5.0L. However, the Audi is the quickest to reach 100 km/h taking only 4.6 seconds, while the electronically-limited top-speed of 250 km/h is consistent with all the other cars here. At 10.86 km/l, the Audi is the least fuel efficient, not that it should matter to its owners though.
Diesel: We wish to point out to our readers that Mercedes India is yet to launch the S Class diesel. We have used the specifications of the S350L BlueTec variant as seen in its European spec, though the same engine will likely power the S Class diesel in India.
The refreshed A8 is available with a 3.0-liter V6 or a 4.2-liter V8 diesel engine. The 3.0-liter variant is evenly matched to the rest of its competitors in terms of power, torque, acceleration and top-speed. The A8L 3.0 is priced at INR 1.11 crores (ex-Showroom, Mumbai) while the 730Ld is priced at INR 97.5 lakhs. Prices of the S Class and XJ are unavailable (as the Indian-assembled XJ is yet to have its market launch).