For every one Mercedes GL-Class, ten Audi Q7's are sold in America, according to Automobile-Magazine. Mercedes is taking steps to change that appalling statistic with the next generation model currently testing in Europe.
The elder sibling of the ML-Class is serving American families since early 2006. A 7-seater with proper third-row seating, the GL-Class comes along with an off-roading pack. Mercedes specifically developed the GL-Class for the US market and later took it to European countries.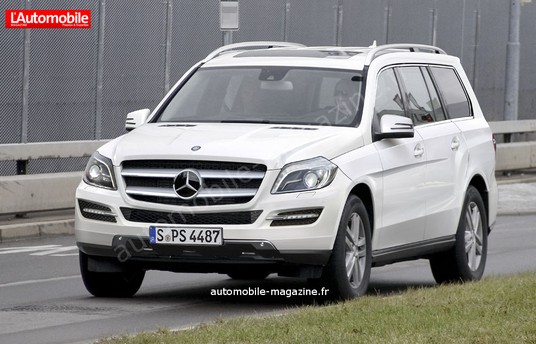 Like this rendering, the 2013 GL-Class is not expected to have a drastic styling redo
The replacement will again not duck under five meter length. The side profile is similar to the outgoing vehicle while the front and rear fascia mimic the new ML-Class. The tail lamps are designed by the same man who styled the E-Class's rear.
Interiors have reportedly received an overhaul, the spies have seen air vents turning from circle to square shape. The navigation system assists drivers through a larger screen. As any latest generation Mercedes will have, the 2013 GL-Class gets packed with gadgets such as night vision, blind spot monitoring, brake assist, reverse camera and start-stop motor.
Mercedes Benz is likely to assemble this model in India in 2013.
[Source - Automobile-Magazine.fr]