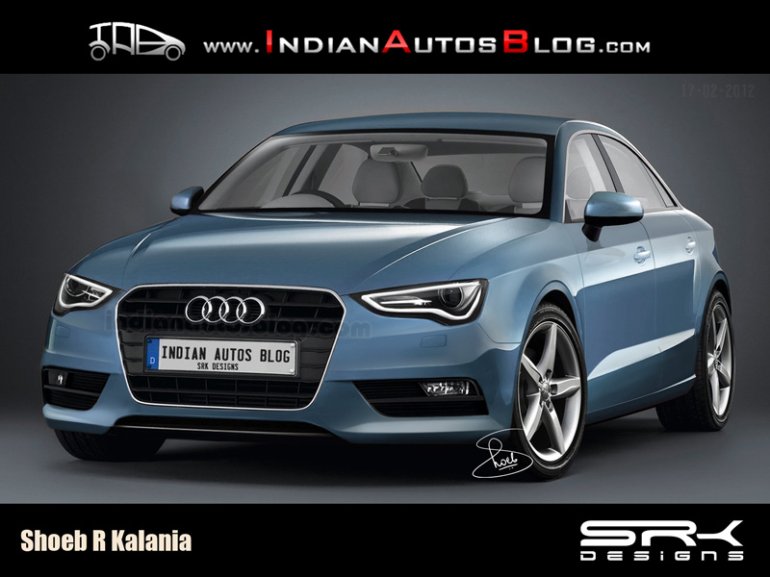 Audi is all set to premiere the next generation A3 hatchback at the Geneva Auto Salon next month and begin production for consumption in Europe and America later in the year. Once the hatchback project is done with, Audi will get its hands dirty with variants on the A3 platform.
At this moment, its not clear as to what all of them are but one definite offspring is the sedan model, shown as the A3 Concept at last year's Geneva Motor Show.
The four-door A3 is a model Audi India will want to get here as fast as possible for many reasons such as
1) An Audi sedan's price starts at over 30 lakh rupees and by having models in the 20-30 lakh price category, Audi can drive up sales to make up 50% of its total volume.
2) The sedan is still the most practical choice - its not small like a hatchback and isn't as tall and menacing as a crossover - its just the right size. It complements the Q3 very well as not everyone likes driving an SUV.
3) Accord, Camry, Passat buyers who like to drive or own a German big-three badge for prestige have to settle for the 3 Series Corporate Edition or stretch for the basic version of the C-Class. The A3 sedan priced right in the middle of this segment puts it at an arm's length away from them.
4) First mover advantage - We're not sure if the 1 Series sedan or the baby CLS feature on the Indian business plan of the other two Germans, but Audi will have the whole playing field to itself with the A3 sedan if it brings it to the market next year. The downside is there is no guarantee that this formula will work.
The A3 is a two-faced product - The aim is to have an affordable range of models but there is a twist - the A-to-B variant could have an engine smaller than 1.5-liters that is highly economical and on the other the end of the range, a 250+hp turbocharged engine that could send drive to the wheels through a DSG.