Jul 14, 2012 - 7:58pm IST
Filed under Suzuki, Suzuki Grand Vitara
Suzuki Vitara gets a new face, but needs a second life in India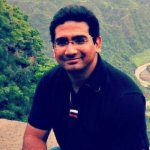 Kaustubh Shinde, They say sooner or later your passion finds you. Sometime in late 2009, I started writing for IAB and ever since then it has been a roller coaster ride for me. An amazing experience that has taught me a lot, taken me to new places, driven some great cars and met some amazing people. When you don't find me on IAB (very rarely), you will find me either at a coffee shop or an eatery or at the nearest gadget store. Hope you enjoy IAB as much as we do!
Around two weeks back, we brought you some interesting news about the Grand Vitara facelift. A test mule of the Grand Vitara was spotted in China with a new face. Because China is such a big market, many cars are facelifted for local consumption only.
Fortunately, the Grand Vitara was not on this exclusive list.
Suzuki has unpacked the 2013 Grand Vitara for Japanese market. Called as the Escudo (which is a unit of Portuguese currency) in Japan, the 2013 Grand Vitara features:
New front grill
New black headlamp lenses
Aggressive front bumper with black fog lamp surround
New Alloy wheel design
Suzuki has chosen to ditch the tail gate mounted spare wheel. The 2013 Vitara will only come in 4WD version. The 4WD comes with 4L and 4H modes to give better off road credentials. New materials and colors for the seats and door panels round up the changes to the interior.
With the launch of the 2013 Suzuki Vitara, Suzuki has also launched a special edition model named 'X-Adventure'. The Special Edition features:
Bison Brown Pearl Metallic finish
18-inch wheels
A chrome front grille
Privacy glass
A rear spoiler
A suede interior with red accents on the seats steering wheel and gear shifter.
A sunroof
The engine remains the same 2.4-liter engine unit with 165 hp. Europe gets a smaller 2.0-liter engine with 140 hp.
IAB has been driving many compact SUVs lately and we are completely sold on the concept. We request Maruti Suzuki India to pay heed to our suggestion of re-engineering the Grand Vitara to make it compete against the Renault Duster.
[Source: CarScoop.Blogspot.com]