The covers are off the 2012 Mercedes M Class and as we reported earlier it is hardly revolutionary. But Mercedes's designers have done a very good scalpel job of making the SUV look subtle and stylish. It is definitely a progressive design from where they left.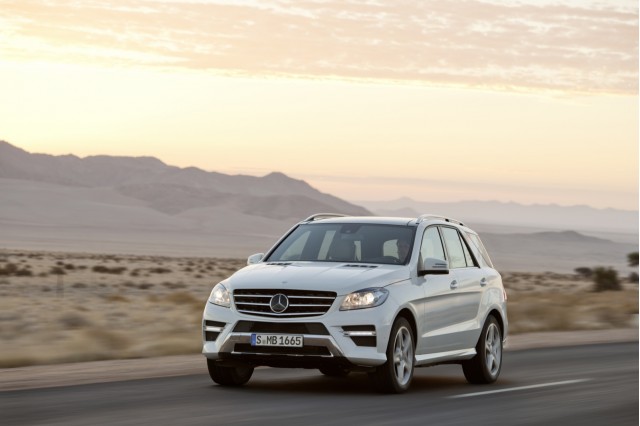 The front fascia get a major uplift to make the SUV look like a gentle giant. The daytime LED (now becoming a standard on most German cars) and a chiseled, tightly shaped front airdam give it an aggressive look. Nothing major has changed in the inside of the car except they have significantly improved the seating space.
The new M class will be powered by either
• 3.5 L Petrol V6 with 302 horsepower
• OR a reworked 3.0-liter turbo-diesel V-6 generating 240 horsepower
Both will get a 7 speed automatic transmission and a host of fuel saving features such as smart oil and water pumps, and A/C compressor. The tentative fuel economy for the diesel is 9.78 Kmpl
Being an SUV, it will boast a superb off-road package with six different modes (Automatic, Offroad 1, Offroad 2, Winter, Sport, and Trailer). It has a ground clearance of 11.2 inches and fording depth to 23.6 inches. It has an Airmatic air suspension system, a two-stage transfer case and skid plates to protect the underbody.
2012 Mercedes M-Class Image Gallery
The SUV also boasts of a host of safety features such as:
• Nine standard airbags including a kneebag for the driver and sidebags for the rear row
• Attention Assist and Pre Safe systems
• Lane-keep and blind-spot assist features
• Distronic cruise control
• Night-vision system
Will this new M Class debut in India? Yes definitely!
But right now it is too early to speculate on the month of launch.
Source - MotorAuthority.com