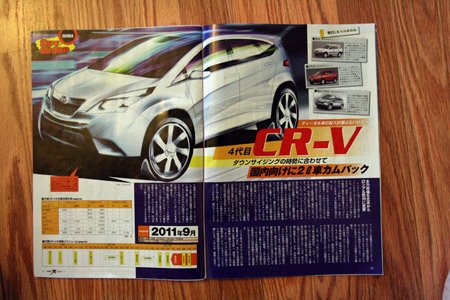 Yesterday we brought you information for the first time on the 2012 Honda CR-V. Today, we bring you more on its engines and future plans.
The compact crossover, believe it or not, sold 560 units per day last month in the U.S. Honda initially predicted a monthly volume of about 2,000 cars in the recession-hit country.
So how do you make such a strong performer ever popular? One way would be by not changing much in it.
The 2012 Honda CR-V would have a 2.0-liter FWD setup as an entry level model. The AWD 2.4-liter engine will be retained and as informed earlier, so will the platform. The length, breadth and height will marginally go up, the exterior design will be finalized by the end of this year.
The 2012 Honda CR-V will be displayed at the Tokyo Motor Show in 2011. Soon after, a major engine change operation will be carried out as part of the model's mid-life refresh session.
Source - Honda Portal