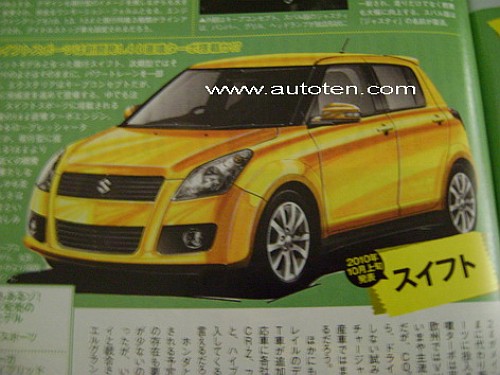 Autoten, which in the past has reported major developments before anyone else on the internet, has come out with another startling development regarding the 2011 Suzuki Swift hatchback.
While many of us were expecting the new Swift to have economical K-Series engines (1.2, 1.5-liter petrol engines and 1.3 Multi-jet deisel engine), Autoten claims it will also come with a direct injection petrol engine displacing 1,200cc.
This engine will be joined by a 1.4-liter turbocharged petrol engine generating 148hp and a 1.5-liter petrol engine, which we believe will be from the K-Series family for Asian markets like China and India.
Another piece of information to munch on is the appearance of the VW group's 7-speed DSG transmission on the Swift. This particular variant will be for the European/Japanese market who conceive the Swift as a performance hatchback unlike Indians who look up to it as a family car.
Based on an all-new platform, the Suzuki Swift is growing up. It will be bigger than the current car and host higher displacement petrol engines. The new Swift will also get hybrid technology and CVT (Continuously Variable Transmission) for the American market. If the Swift is growing up, would the next generation SX4 be bigger as well?
Source - Autoten