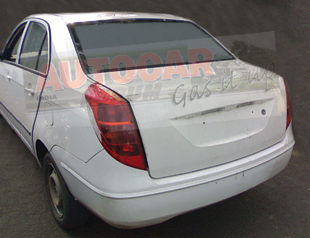 Tata is now planning to launch all new Indigo, which is basically Indica with a boot, but there is quite a lot of difference this time though. The new Indigo wont merely be an Indica Vista with a boot stuck to its back but a thorough redesign to make it look more cohesive. The wheelbase will be extended and further more, it will get better engines (read Fiat engines). It is confirmed that the car will receive Fiat's 1.4-liter petrol engine.
Tata Motors wants to take the new Indigo more upmarket without losing its value proposition, but the taxi fleet image is something that Tata consciously wants to avoid. This might be taken care of when you consider the fact that Tata plans to sell the all new Indigo and the current Indigo alongside each other. So those looking for a better proposition will be going in for the Indigo 'Vista'. Expect a name change though.
The biggest suspense has been the rear end looks of the Indigo and this is no longer a suspense as these pictures have been revealed courtesy, Autocar India. The pictures show vertically stacked tail lamps similar to the ones on the Indigo CS and the Cadillac DTS.
The nose of the new Indigo will retain the Indica's sweeping angular headlights, but should benefit from a more prominent grille, with oodles of chrome for a rich look. At the rear, the Indigo gets vertically-stacked taillights, which are in keeping with the overall design and are sure to lend it a distinct identity from the rear as well.
Whether they're good-looking or not is a matter of personal taste, but Tata's designers have done well to disguise the bulk of the rear. The tapering roof and C-pillar, with a more rakish rear windscreen give the whole car a more cohesive look, without really compromising on rear headroom. This definitely looks better than the Swift Dzire in my opinion.
The lengthened wheelbase means more in-cabin space as well, to improve upon what is already a roomy car. As far as budget limos go, the new Indigo should set quite the benchmark.
Its price is expected to be around Rs 5 lakh for the base versions, and there could also be an executive variant, complete with rear A/C vents, Bluetooth, and perhaps even a DVD screen.