The world's largest car manufacturer, Volkswagen, has unveiled the all new, next-generation version of its mid-size saloon, the Jetta. The new car features major revisions in design and styling as compared to its predecessor and draws a lot of inspiration for its looks from the NCC Concept Coupe which VW showcased at this year's Detroit Motor Show. The new Jetta has adopted the Volkswagen family front-end look as seen on the new Polo, Golf, Touareg and Phaeton.
The new Jetta still shares its platform with the Golf, but it features a wheelbase stretched by 70 mm over the Golf. The new Jetta has also grown in length over its predecessor by 90 mm and now has a length of 4644 mm. The increase in length has been done to increase passenger legroom at the rear and thereby enhance overall comfort.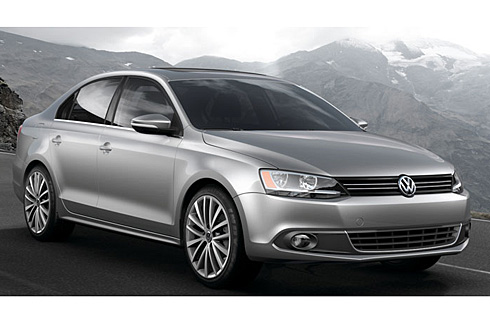 The new Jetta in Europe will be offered with a wide range of petrol as well as diesel engine options from Volkswagen's enormous engine portfolio, but in India, the car could come with a 1.4 litre  TSI petrol and the 1.6 litre TDI diesel from the Vento.
The new Jetta could be launched in India sometime around March 2011, reports Autocar India and should be priced in the 16-18 lakh price bracket.
Source - Autocar India