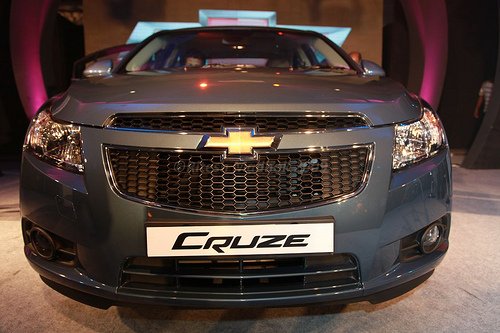 Cruizing along the highway that consists of the Corolla, Civic and Laura
At the Paris Motor show in October 2008, GM revealed a compact sedan (in the American sense) named Cruze. A year later, the Cruze was launched here in India. Surprisingly, GM India chose to sail the diesel version before the petrol and only the manual version was decided to go with it. With just one engine option, hopes were not very high and the trusted Civic and Corolla, formed a ruthless opposition.
With Skoda Octavia, Toyota Corolla Altis & Honda Civic peeping from the top in the upper mid-size segment of the Indian automobile market, the Chevrolet Cruze has rattled the ladder with 1,100 pre-launch bookings giving rise to a possibility of a scary fall to those on the higher levels. Taking full advantage of the customers in the festive mood, the Cruze missile it seems, has hit the target.
The petrol variants of the Chevrolet Cruze listed at 112 bhp for the 1.6 litre and another 1.8litre, 140 bhp rated version is expected to arrive in India shortly. At present, the Cruze uses a Captiva-sourced 2.0-liter CRDI engine that brings out 150PS @ 4000rpm and torque of 327@2600rpm.
Utilizing the same platform of the Cruze (300 series), the real money spinner will be the Chevrolet Beat small car at the Auto Expo 2010 scheduled to take place in the second week of January. The Beat will initially come with a petrol engine and later in the year, a 3-cylinder diesel engine sourced from Fiat will be strapped to the car.
It's being hoped that it may well emerge as a better option with its muscular look, fashionable interior and driving impressions.
Chevrolet Cruze Image Slideshow
If you can't see the slideshow above, visit the Chevrolet Cruze Image Gallery directly