According to the brochure scans uploaded on the Mercedes Passion Blog, the 2015 Mercedes C Class will launch with three engine options - C 220 BlueTec (diesel), C 180 and C 200.
During the launch, the C Class comes in four variant lines - Standard, Avantgarde, Exclusive and AMG.
The standard variant is easily identifiable by its steel wheels while the other variants have 16-inch alloy wheels. The former gets a single-zone air-conditioning, whereas the others have a dual-zone unit. The standard model also misses out on features like rain-sensing wipers.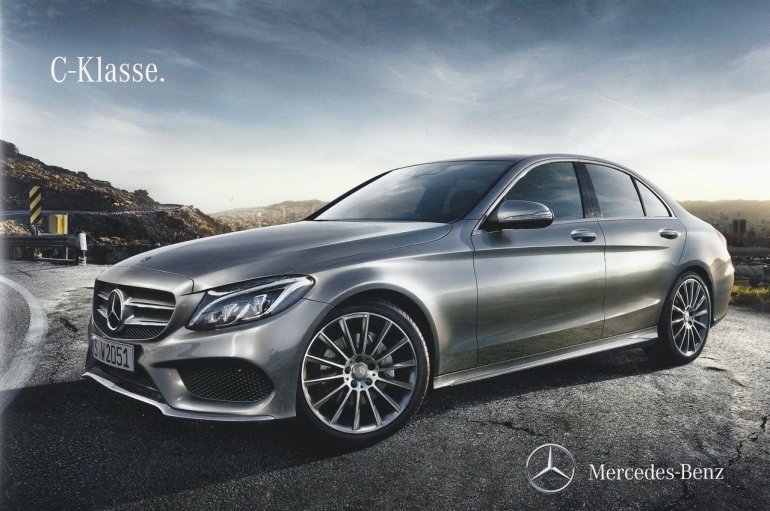 The diesel engine on the C 220 variant is a 2,143 cc four-cylinder unit which outputs 170 PS @ 3,000-4,000 RPM and 400 Nm @ 1,400-2,800 RPM and comes paired to either a 6-speed manual or a 7-speed dual clutch automatic transmission.
The petrol engine is a 1,991 cc four-cylinder unit which develops 156 PS @ 5,300 RPM and 184 PS @ 5,500 RPM on the C 180 variant, and 184 PS @ 5,500 RPM and 300 Nm @ 1,200-4,000 RPM on the C 200 variant.
In German showrooms, MB Passion learns that the C 220 is priced at 38,675 EUR (33.07 lakh rupees), the C 180 at 33,558 Euros (32.97 lakh rupees) and the C 200 at 36,414 Euros (31.14 lakh rupees).
Optional extras are the 7G-TRONIC Plus that costs 2,499 Euros (2.13 lakh rupees), AIRMATIC (air suspension) at 1,416.10 Euros (1.21 lakh rupees), seat comfort package at 238 Euros (20,353 rupees), seat climate control for driver and passenger at 1285.20 Euros (1.09 lakh rupees), 40/20/40 split rear seat at 345.10 Euros (29,511 rupees), AIR BALANCE package at 398.65 Euros (34,091 rupees), LED headlight at 1,029 Euros (87,996 rupees), Panoramic sunroof at 2106.30 Euros (1.80 lakh rupees), Head-Up display at 1,178.10 Euros (1 lakh rupees) and Burmester surround sound system at 922.25 Euros (78,867 rupees).
Later today, Mercedes Benz will officially preview the 2015 C Class on the web. The car's world premiere comes during the NAIAS 2014 (2014 Detroit Auto Show) next month.
2015 Mercedes C Class brochure scans
[Source - MBPassion.de]