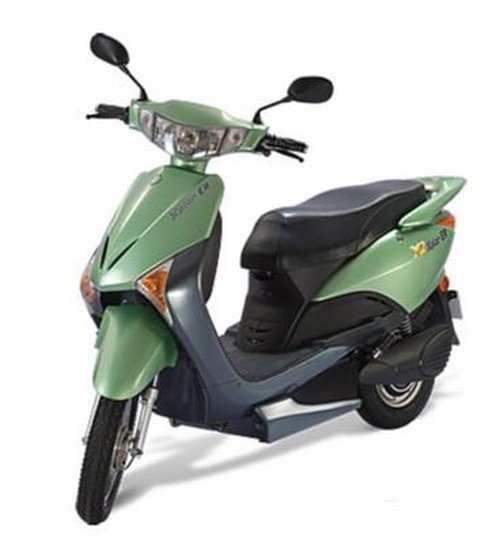 YO Explor ER accommodates an extra battery pack for extended range
After the success of YO Smart and YO Speed, The Electrotherm Group, makers of YObykes, have launched two new models YO Electron and YO Xplorer this festive season.
Their extra-range variants YO Electron ER and YO Xplor ER were also launched. Both of these are zero-pollution, environment friendly economical models
These two new launches run on rechargeable battery and a 250 W motor. Once the battery is fully charged YO Xplor ER can travel up to 105-110 km whereas YO Electron ER can cover 95-100 km. Both these models have the option of an extra battery which enhances range by 70-80 km.
States such as Delhi, Rajasthan, West Bengal, Chhattisgarh, Madhya Pradesh, Puducherry and Andhra Pradesh have given exemptions to buyers of electric two-wheelers such as RTO registration exemption or reduction of fee, and VAT reduction.
Features of new YO Bikes
Mobile charging point
Digital Odometer with trip switch
Telescopic suspension
Smart side indicators
Wider tires
Dual Indicators
Large storage space under seat
Sturdier and wider body
700kms in just 50 rupees
No license and No registration
Technical Specs of new YO Bikes
Parameter YO Xplor YO Xplor ER
Length * Width * Height - 1880 mm * 830 mm * 1240 MM; 1880 mm * 830 mm * 1240 MM
Vehicle Weight - 93 Kgs ; 105 Kgs
Payload - 75 Kg (Single Rider) ; 75 Kg (Single Rider)
Motor Power - 250 W ; 250 W
Battery - 24 Ah, VRLA Battery ; 33 Ah, VRLA Battery
Recharge Time - 6-8 Hrs ; 6-8 Hrs
Performance *
Maximum Speed 25 Km/Hr * ; 25 Km/Hr *
Range Per Charge at 75kg - 75-80 Km with 24 Battery* ; 105 - 110 Km with 33 Ah Battery*
Payload Capacity - 75 kg ; 75kg
Parameter Yo Electron ER Yo Electron
Dimentions (L*W*H) - 1870 mm*660 mm*1175 mm ; 1870 mm*660 mm*1175 mm
Motor Power - 250 W ; 250 W
Battery - 12 V, 24 Ah x 4 in Nos. ; 12 V, 20 Ah x 4 in Nos.
Electricity Consumption - 1 Unit of Electricity
Vehicle weight - 81 kg ; 77 kg
Charging Time - 6-8 Hrs ; 6-8 Hrs
Tyre Width - 16"X3" (27psi) Front and 16"X3" (30psi) Rear ; 16"X3" (27psi) Front and 16"X3" (30psi) Rear
Performance *
Top Speed - 25 Km/Hr * ; 25 Km/Hr *
Range/Charge - 95-100 km/Charge* with 24Ah batteries ; 70-75 km/Charge* with 20Ah batteries
Payload Capacity - 75 Kg (1 Adult + 1 Child) ; 75 Kg (1 Adult + 1 Child)
Visit YO Bikes official website for more details