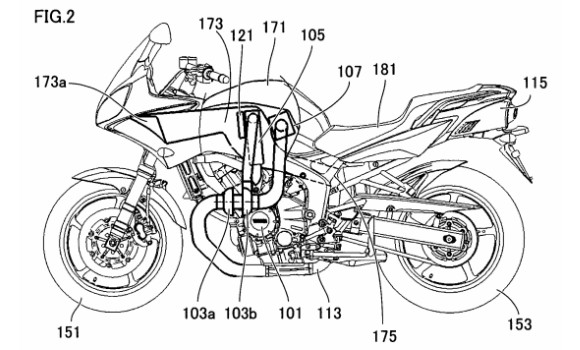 The age of diesel engines for motorcycles, some believe began (and ended) with the Royal Enfield Bullet Taurus. It needed a backbone made of steel, and teeth of titanium to bare the vibrations and harshness of riding one. If you were driving near one, you needed ear plugs.
While diesel engine have evolved to such a level that it terrorizes the gasoline engine's existence, its application has began widening. Now Yamaha has put its head out and it could be the first manufacturer to offer diesel engines of 2-wheelers commercially.
Yamaha has filed patents for a new family of motorcycle-size turbodiesel engines in both inline-four and twin-cylinder layouts.
Obviously a diesel engine is heavy and big. Packaging needs to be thought out and that's what these patents deal with. The arrangement of the different parts is matched to a 2-wheeler's structure, for example the intercooler is placed above the engine saving space and the bike's fuel tank is moved backwards.