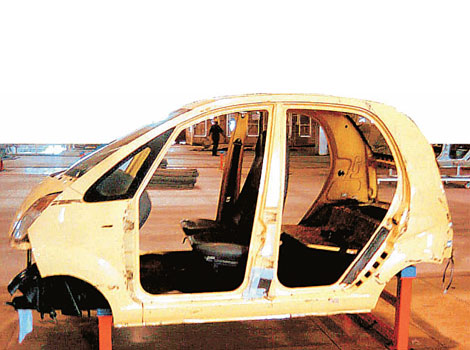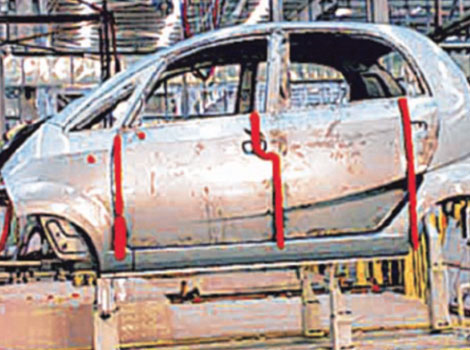 These are the first pictures of the Tata Nano being put together at the Singur plant in West Bengal.
Tata Motors Singur plant has started to work actively on their first batch of Tata nano's which will be ready by September 15th, a fortnight before its seen on Indian roads .
The company is specific to get the car ready by September 15th, and it has already instructed the key equipment vendors like Capro Group, JBM Auto, Rucha Engineering and Rasandik Engineering who will supply the core sheet metal to be used on the Nano. Sources say that the company has set August 15th as the deadline for their key vendors to start producing.
Tata Motors have also asked the remaining vendors who have set up their units at the adjacent Singur vendor park, to rush in their supplies within the first week of September. The company is very strict about the deadline has told its vendor to supply on time even if their units have not been setup by the first week of September in which case they will have to supply the components from their other units.
FEV, a German engineering and power train firm, is right now actively working on the diesel engine for the Nano to debut later next year. The 800 cc turbocharged CRDI engine would most likely be the tiniest engine with common rail technology in the world, taking the crown from Daimler.
Further the Tata's are working seriously on sophisticated engines with compressed air technology which will be very much eco friendly. The technology is outsourced from French company MDI, which uses compressed air to push the piston. An onboard compressor pressurizes air which is stored in a tank for use, a technology which works pretty well, and is one of the best alternatives to an electric car. Sources say a battery powered Nano might roll out of the Singur plant in West Bengal very shortly along with air-powered and micro-hybrid (start-stop technology) models.
It's up close now and its party time for all the people who had dreamt of their first car!
Source- Hindustan Times