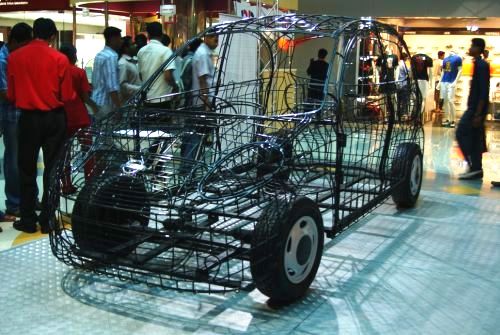 What looks like an over-sized shopping cart is actually a wireframe Nissan Micra. This wireframe Nissan Micra was spotted at the pavilion of the Oberon Mall in Cochin, Kerala.
Nissan has always been low-profile ever since it entered the Indian market. But now Nissan needs some exposure and should reach the masses, with their new small car Micra to be launched officially next month. The wireframe Nissan Micra is a complex architecture of metal tubes with chrome Nissan logos at the front and back.
Nissan's novel way of kindling the interest of passerby's worked well as a number of people inquired the promoters about the wireframe and were surprised to know it was an artistic representation of Nissan's new small car Micra to be launched tentatively on July 14, 2010.
Nissan succeeded in catching the attention of the public and Nissan would be traveling across all major cities displaying the wifreframe Micra to create brand awareness before the Micra's official launch.
With novel campaigns like these and roping in Bollywood star Ranbir Kapoor as their brand ambassador, Nissan is leaving no stone unturned to ensure the success of the Micra.
The wireframe Nissan Micra is the brainchild of Faisal Nensey, owner of 'Executive Modcar Trendz', a car modification firm in Mumbai. Faisal and his team took about 4000 hours and 208 kgs of steel rods to complete the wireframe Micra. Whats astonishing is that, they built the model with just photos of the Micra for reference.
Wireframe Nissan Micra gallery -
Source - Indian Cars Bikes