What is the reaction you get when you talk to your friends about a Chinese car, say over beer at the local bar? Do eyebrows raise, faces flinch, and snacks land on you? In my case, the conversation is interrupted with someone abruptly shifting topics aloud. The moment I start about a BYD, Geely or a SAIC, two of them mimic falling into a coma.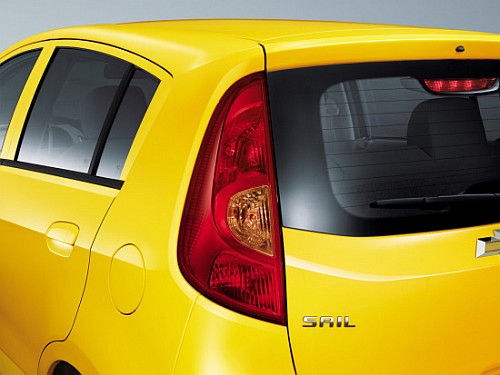 So then, the Chinese car doesn't feature in the list that counts Megan Fox and the iPhone 5. Not to my friends.
The "Chinese gaadi" Chevrolet Sail was not a crowd puller at the Auto Expo and understandably so. People heard the product's introduction from the entrance of the Chevy booth - Hi, I'm Sail, I don't come from the sea. I'm that Chinese car from General Motors that you've seen spyshots of on the internet. I'm based off an old platform, with low-quality interior, high fuel efficiency (thanks to my Italian friend Fiat Multijet) and I come at a dirt cheap price.
The show-goers were fascinated with the Stingray and Camaro convertible. The booth girls were busy trying to explain (or see off) the guests who were stunned with the EN-V mobility concept. People took pictures with a Beat balloon. The Tavera Neo3 and the twin-port-grilled Tavera won more glances than the little Sail hatch on the first two days.
The Chinese market is what, 20 times the size of what it is in India? When a CBU-selling BMW or Mercedes decides to make an exclusive car for your country, you know there's something wrong with them, or there's something special about your car buying population.
The Chinese market is massive, and I'll tell you by how much. GM India sold about 3,513 units of the Cruze from January to July 2012.
Can you guess how many Cruzes were sold in China this year?
10,000? 20,000?
1.35 lakhs!
How many units did the CR-V sell in India this year? 100, 200? In China, Honda delivered 105,596 units. The BMW 5 Series did 56,000 units. BMW India has not sold 56,000 units of all its cars combined together since its launch in 2008.
Its not just big sedan and SUVs that sell like popcorn in a cinema theater. The VW Golf for instance, clocked over 70,000 units in seven months. The VW Polo clocked 77,000 units.
But if you see the top 5 best selling cars, there's one vehicle which you would not believe is China's favorite.
Yes, we're talking about the Chevrolet Sail. The Sail is a massive success for SAIC and General Motors in 2012. GM sold 161,297 cars, an improvement of over 41% over 2011, making it China's second best selling car. In May and July, the Sail was China's best selling car.
Not shocking? India's best selling car was for so many years the Maruti Alto. Coming a distant second and third were cars such as the Wagon R, Indica or i10. Its the segment that's booming, not the product, right?
Wrong!
The best selling car in China is the Buick Excelle (a rebraded Opel Astra, a C-Segment model), while 3rd place is taken by the VW Jetta followed by the Chevrolet Cruze and VW Passat. Many of these cars are sold in different variations, perhaps by different joint ventures, but none of them compete in Sail's segment or even in its neighbourhood.
There are plenty of local Chinese car companies that manufacture cars at the Sail's price point, but how come they don't feature in top 50, let alone top 10?
Has your opinion of the Chevrolet Sail changed this moment?
We've been throwing enough light on the Sail since its Indian premiere at the Delhi Auto Expo through spyshots, airing announcements and quotes, but we're still uncertain about this product's USP. What is special about this car? The image-boosting Jetta and Passat are built like tanks and have turbocharged engines. The Cruze's cockpit, design and acceleration are commendable, it leaves an impression on you when you drive it fast. The Asta platform is sporty and offers spirited driving, and cars like these are preferred by young buyers.
Since the design is bland and the interior is simple, the Sail's price, the Fiat engine's high fuel economy and GM's three-year free maintenance plan are the only assets we think can be highlighted here in India.
In China, the Sail gets 1.2L and 1.4L naturally aspirated petrol engines, tuned for fuel economy. They don't offer service plans or extra goodies.
What is it that China loves so much in the Sail? Will this mystery ingredient make Sail a success in India?