Test mules of VW Golf running in India is not a new thing for Indian Autos Blog readers.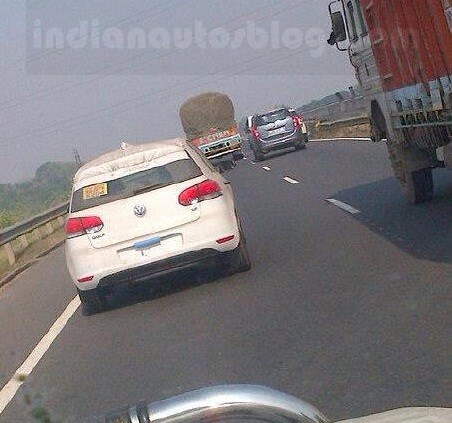 In fact the first spy picture of the Golf came our way as early as June 2010 and since then the test mules surfaced on Indian roads once in a while, in and around Pune on all the occasions. We even spotted a LHD test mule with European plates inside the VW's Chakan plant premisses on our visit way back in July 2010.
The Golf took a sabbatical and now it has resurfaced again. Indian Autos Blog's ardent fan Mr. Akshay Anchalia has spotted the test mule on the NH-6 highway in Kolkota. This is probably the first spotting of the VW Golf test mule in India after the new Golf Mk7 was launched.
The test mule belongs to the previous generation and it's still not very clear as to what are VW's intentions.
Reasons why the VW Golf is in India
The Golf could be here to test some of it's mechanicals as a part of VW's global testing programs, since Indian environment can throw a lot of dust and rough roads that could pose challenges to a global hatchback.
It could be on its way to Bhutan. Our readers have previously spotted cars such as the new Mitsubishi Lancer, Toyota Hilux and the Hyundai ix35 that are driven across the border to reach customers in that part of the world.
VW thinks that India is still inclined towards sedans instead of premium hatchbacks and the Golf is most likely to give India a miss.
As VW India tests future mechanicals on the Golf, a fellow global citizen in the Indian neighborhood receives the keys to his shiny new example, regarded as the best driver's car in the compact segment. How blatantly unfair!