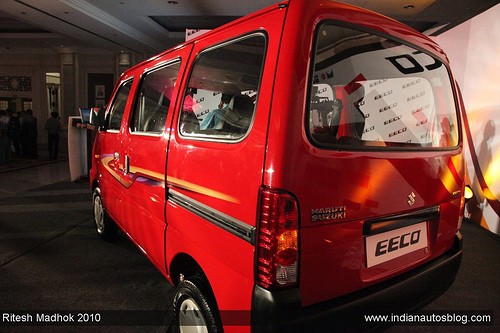 The Maruti EECO is serving as a great alternative to the Omni buyer
Things are going as per plan in camp Maruti.
The Maruti Eeco seems to have done what the Versa failed to do trying years for Maruti Suzuki. Maruti Eeco customers have to deal with 3-4 months waiting to drive home their EECO as per reports in the media.
The EECO has a vast amount of cabin space and good amount of power. Though being a re-engineered Versa, the customer isn't bothered about its underpinnings or origin. In fact most of the customers are Omni owners, the company reveals.
Maruti Suzuki spokesperson -
The product has received overwhelming customer response for its attractive power, good air-conditioning, looks and high utility value All these features along with attractive prices have got us many more buyers than what we had planned. This has resulted in a shortfall in supply as compared to the huge demand and we are now trying to increase production so as to match the demand scenario.
In some cases customers have to wait almost 6 months to get their car.
Maruti is reacting to the situation by increasing production as quickly as possible. They forecast about 3,000 units sale in these first few months.
Maruti Suzuki EECO Image Slideshow
can't view the slideshow above? visit the Maruti Suzuki EECO Image Gallery directly to see the images
Source - MydigitalFC