The VW Vento TSI is the next launch from the German carmaker in India. Contrary to previous reports, the name is 'Vento TSI' and not 'Vento GT TSI'. The company has notified its dealers about the car and has also informed that the launch is just days away.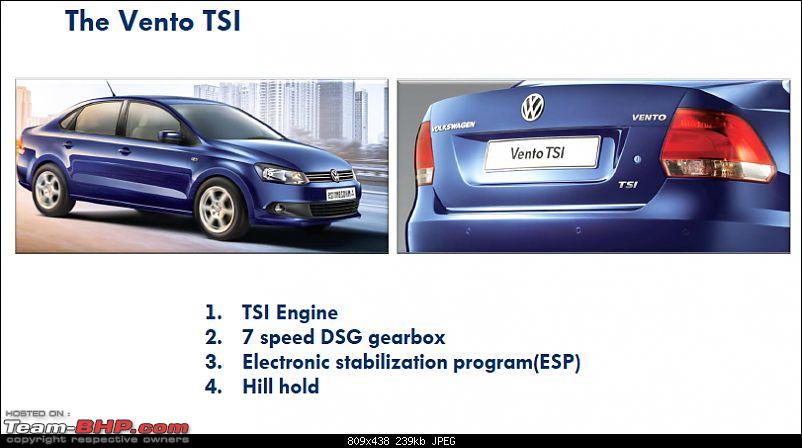 The Vento TSI can be identified thanks to its 'TSI' badging on the lower right corner of the bootlid. This is the only exterior change compared to the regular Vento.
Underneath, power comes from the Polo GT TSI's 1.2-liter four-cylinder TSI engine and while the exact power and torque figures are not provided in the official document, we are told it is the same 105PS and 175Nm of torque as the Polo GT TSI, sent to the front wheels via the same 7-speed DSG automatic gearbox.
It seems that the Vento TSI will be offered only in the top-end Highline variant. Feature additions come in the form of ESP (Electronic Stability Program) and a Hill Hold function.
The Vento TSI will most likely replace the Vento AT, which makes do with the 1.6-liter petrol engine and a traditional 6-speed automatic transmission. The current Vento AT is priced at about INR 9.8 lakhs (ex-showroom, New Delhi) and we certainly expect the TSI to be priced higher given its modern turbo-petrol engine and dual-clutch transmission.
[Images from Salman of Team-BHP.com]