Lots of things are happening at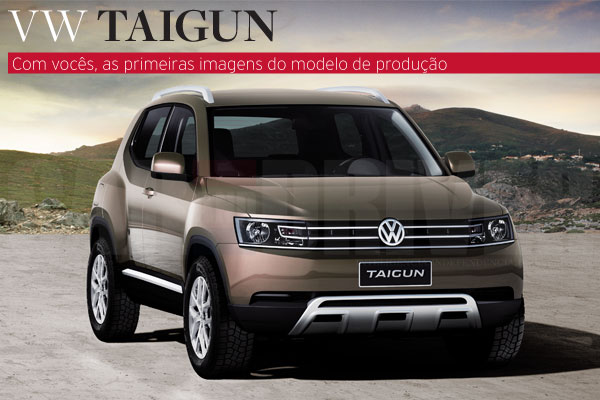 Volkswagen; it is becoming increasing difficult to keep tracking its developments.
First is the onslaught of new products that are lined up for the future and second is the low cost brand 'Tantus' (tentative name) which is hatching in the skunk works of VW.
And now it seems, that these two streams have converged.
Back in October 2012, Volkswagen revealed the Taigun Concept at the Sao Paulo Motor Show. The Taigun gave us a glimpse of a future VW rival to the Renault Duster and Ford EcoSport. It is essentially a compact SUV based on the VW Up! platform.
It's dimensions are 3.86 m length (sub-4m product), 1.73 m width and 1.57 m height and it sports a wheelbase of 2.47 m. It is powered by a 1.0-litre turbocharged, direct injection, petrol engine which puts out an impressive 110PS/175 Nm. The cog shifting duty is taken care by a 6-speed manual gearbox.
Volkswagen received nothing short of a phenomenally positive response from the media and the masses. The German giant has decided to green flag the Taigun for production in the next few years.
Now, news comes in from WhatCar that the Taigun will be specifically developed for emerging markets such as India, Brazil, Russia, etc and will be sold under the upcoming low-cost brand tentatively named Tantus.
[The VW Taigun Concept was showcased in Sao Paulo last October]
To recap, Volkswagen is planning a low-cost brand to take on Nissan's Datsun in emerging car markets. By 2016, Volkswagen plans to have at least three cars developed specifically for the new low-cost brand. Thus, there is a very good possibility that the 'Tantus Taigun' will head to India sometime in 2016.
It makes absolute sense too. The Taigun is a sub-4 meter SUV which means it can avail of excise duty benefits keeping the price tag in check. Volkswagen India's current 1.6L TDI engine can be downsized to 1.5L to fit in Taigun's engine bay. And there you have it – a perfect match for the Renault Duster and Ford EcoSport.
If the Taigun is taken away by Tantus, what will Volkswagen then sell as a competitor to the EcoSport?
[Source: Whatcar.com; Rendering Courtesy - Caranddriverbrasil.uol.com.br]