Strangely, photographs of the Volkswagen Taigun Concept were reappearing on Twitter last week, coming from Tweeters in the UK.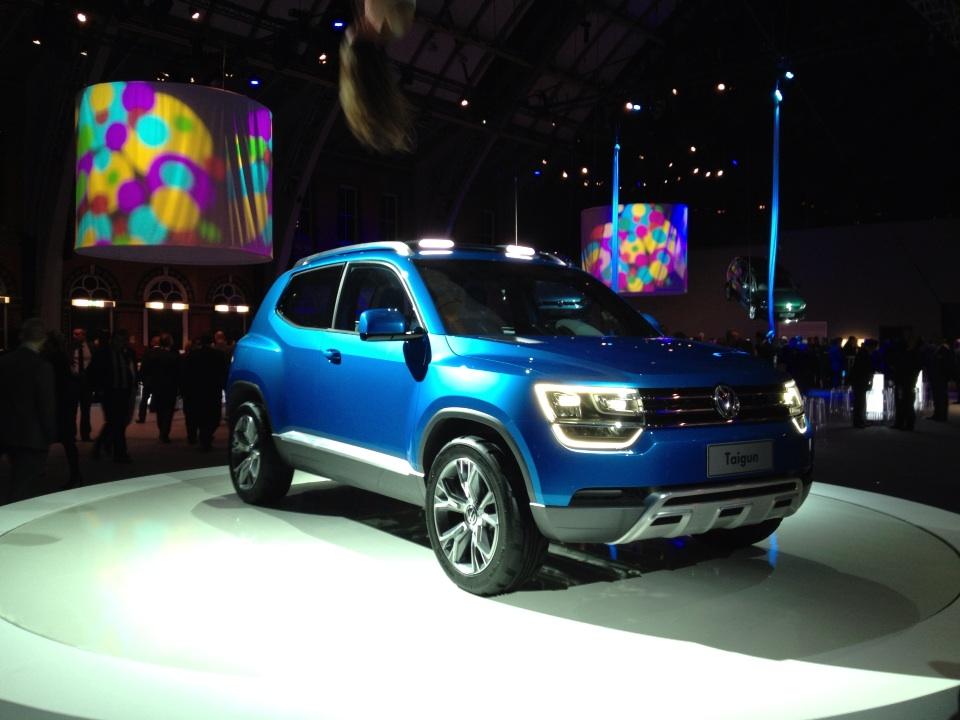 One such tweet was sent out by the Vindis Group who own a chain of Volkswagen dealerships in the UK and follow Indian Autos Blog on Twitter.
The Taigun was apparently shown to a select group of dealers and company officials in meeting in Manchester. The Taigun is not a secret car, the exact same example made its global premiere at the Sao Paulo auto show in October of 2012.
The FWD Taigun could eventually find a place in the Volkswagen New Small Family line of models. There's a lot of speculation at the moment on the branding matters, the SUV may be sold as a 'Tantus,' the proposed low cost brand that would be spun off in 2016 to help the VW group enter the low cost car war in emerging countries like India and Indonesia.
The clean and rugged looking Taigun could also dress up as a Skoda. To gain scale and maximize sales opportunities, the Up! is marketed as a Skoda (Citigo) and as a Seat (Mii) with design differences. A picking from the current powertrain crop may find their way into the Taigun, the 1.0L engine in turbocharged and naturally aspirated forms can handle an SUV of this size providing the best results in efficiency, performance and emissions.
It is very easy to judge that this four seater is the perfect product for the Indian market. The revival specialist for a company that's in a spot of bother in today's Indian market is certainly an SUV, as both Tata Motors and Renault will tell you.
The Taigun should be put through a comprehensive localization program to meet the high expectations of the cost-conscious Indian customer. We'd love to see VW India push Wolfsburg to premiere a close-to-production Taigun at the Auto Expo in Noida next year.
[Image source- Twitter.com/VindisGroup]