You already know how the Volkswagen Group is planning to own the world by 2018. This so called 'Strategy 2018' has been on the right track since it was unveiled.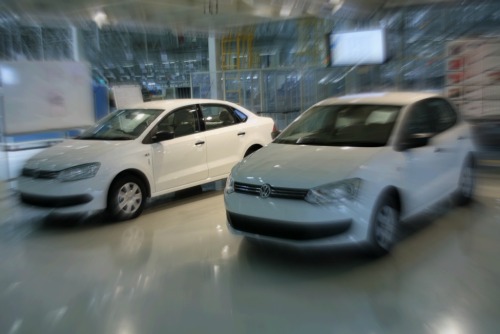 VW missed the numero uno position in 2011 because GM added GM-SAIC sales figures to its own balance sheet piping the German czar to the top spot. But VW Group is not worried because not only does it want to become the number 1 manufacturer in the world but also sell 10 million units annually by 2018.
However, TheAutomobileMag reveals that the strategy is not only on the right track but might just speed up the achievement of the target by a full two years. Yes, VW might achieve its 'Strategy 2018' as early as 2016. Here are some high points of the article:
Unlike some other manufacturers who are focusing on the products, VW Group has put a strong emphasis on emotional values like driving pleasure, strong perceived quality, exciting design, and engineering excellence.
The strategy hinges on four pillars
Further integration of the mainstream and premium brands
The creation of three highly flexible cost-saving architectures
A much more efficient global production network
To use its massive profits to fuel a clever and aggressive model policy.
VW Group plans to introduce some 32 different models till 2018
Nearly all of Volkswagen's future models will be developed from one of only three new modular architectures:
MQB, for all FWD/AWD cars with transversely mounted engines
MLB, for all FWD/AWD models with longitudinally installed drivetrains
MSB, for all RWD/AWD models with front-, mid- and rear-mounted engines
MQB will support all the bread and butter model such as Volkswagen Golf, Second-generation Tiguan SUV, next gen VW Jetta, New-generation VW Passat, Next-gen VW Polo, Audi A3, Third-generation Audi TT.
MLB will support most Audi models such as next gen Audi A4, Audi A6, Audi A8, Audi Q5, Audi Q7, Audi Q2, Volkswagen Phaeton, Third-gen VW Touareg
MSB Architecture will be further divided into three parts:
MSB-M - mid-engined, rear- and all-wheel drive
It will support Porsche 960, VW Bluesport/Audi R5/Porsche Speedster, Next-gen 982 Porsche Boxster/Cayman, Lamborghini Aventador replacement, New Audi R8 and Lamborghini Gallardo.
MSB-F - front-engined, rear- and all-wheel drive
It will support third-generation of the Bentley Continental, Second-generation Porsche Panamera, Baby Porsche Panamera – Pajun
MSB-H - rear-engined, rear- and all-wheel drive
It will support Porsche 911 and its 20-something variations
Head over to Automobilemag to read all the juicy details!