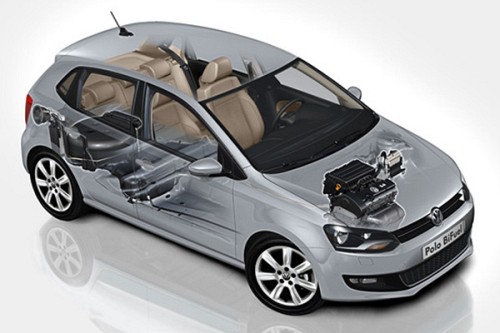 There's been no official word from VW on the LPG model, but according to our alert friends in Polo Driver, who have spotted this one on the official website, the LPG model is out in Germany.
In India, the LPG market is well and truly alive even though the superior alternative CNG is threatening its existence. Due to the lack of proper infrastructure, the CNG models are offered only in select areas.
Coming back to the twin fuel VW Polo, the LPG fuel option is provided only on the 1.4-liter engine, which isn't offered in India yet. Dubbed the Polo BiFuel, the newcomer's 1.4-litre 84bhp engine runs on both petrol and LPG autogas. The engine cannot be started on LPG. It needs to be warmed up using petrol and immediately after it switches to LPG mode.
Thanks to the LPG tanks, the total range of the Polo is maximized to 1300km (807 miles) from the car's 52-litre fuel tank, located in the spare wheel well in the luggage compartment. An LED-display in the instrument panel informs about the fuel being used.
The LPG model is offered on the traditional Volkswagen versions of Trendline, Comfortline and Highline, as well as the special-edition Team. All three come fitted with a 1390cc unit (developing 81bhp when using LPG) and five-speed gearbox.
It won't take VW very long to offer the LPG kit on the sole 1.2-liter petrol model in India. VW is faced with an uphill task of ramping up production to meet the heavy demand. This must be running through their heads than launching alternative fuel models. Perhaps in 2011, we can expect such variants.
VW Polo BiFuel Image Gallery
Source - Polo Driver