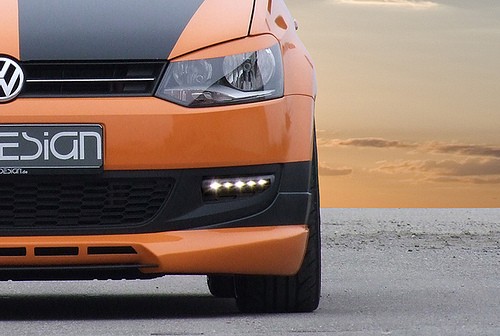 The JE Design body kit for the VW Polo looks good. But the prices seem exorbitant
Now, for all of those who are eager to see a VW Polo in all its "Sport" glory, here's one that won't make it to India.
These pictures show you what can be done with the forthcoming VW Polo, so that all you wanna be "Cool & Bad" dudes can take your Polos to custom shops and get them heavily modified.
Here's one by JE Design, Germany.  The Orange body paint with black stripes looks good, but would personally like to see a  "Electric Blue" with Orange stripes or "Metallic Grey" with Black stripes.  Notice how the strips are carried on from the roof to the bonnet. The treatment lends it a meaty and arrogant look.
For an average driver, this car would only feel more intimidating as it grows in his rear view mirror. The twin exhaust centered at the rear is very sporty along with a "diffuser" treatment. Not sure of the material that JE Design have used, but the carbon fiber like treatment to the entire section is very desirable.
The LED strips near the honeycomb mesh will get you noticed during your nightclub visits or evening drives.  If I'm sure of one aspect of this car, its got to be the tires. JE Design indicate that a 215/35 R18 or 215/40 R17s can be fitted on the Polo. These profiles are upmarket as well.
Yes, the interiors can be customized as well and you know whats best for you on the inside. Personally, I think the car would look great in any avatar.
JE Design VW Polo Image Slideshow
can't see the slideshow above? View the JE Design VW Polo Image Gallery directly
Source - JE Design