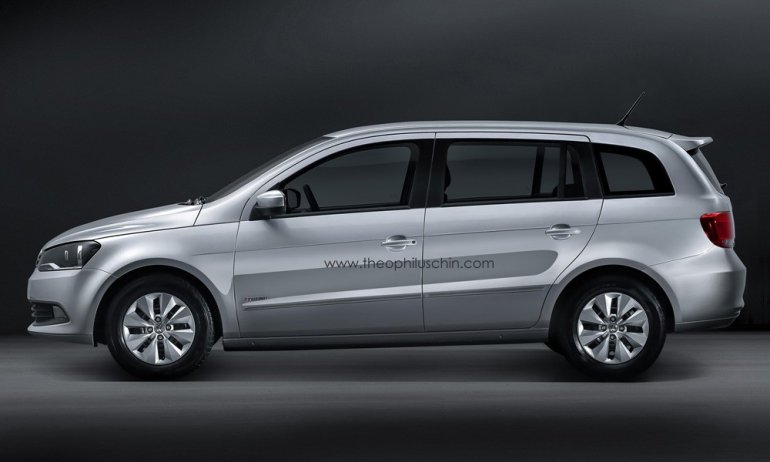 Our good friend from Malaysia Theophilus Chin is known to explore exciting possibilities with existing products.
This time, he has stumbled upon something that probably is  gold mine for Volkswagen India.
What do you see in this rendering? It is a rendering of a Volkswagen Gol converted into an estate. So what, you ask?
Well, look carefully and do you see a potential Maruti Suzuki Ertiga rival?
But it's a VW Gol, it is not sold in India. True that, but the Volkswagen Gol is just a Brazilian cousin of the Volkswagen Polo which is doing quite well for itself in India. They both share the same platform, more or less the same design, most of the interior and other mechanical components. The Volkswagen Gol and the Volkswagen Polo are essentially twin sisters.
If Volkswagen India is considering to enter the booming MPV segment, they should definitely look at this rendering very carefully.
MPVs are are as hot a property as SUVs. The Maruti Suzuki Ertiga is currently sitting on 45,000+ orders indicating a huge success story in the making. Nissan plans to carve out a place in this segment with the Evalia and GM India is testing the Enjoy MPV very rigorously on the Indian streets.
Volkswagen India can definitely work on an MPV based on the Polo's platform. In fact, VW and Skoda can jointly work on an MPV which can be later rebadged under both brands giving huge economies of scale.
But Volkswagen already has the many MPVs in its portfolio such as the Touran and the Sharan. Yes, you are correct; but they are very expensive to build in India. The Sharan for example starts at 29,000 Euros in Europe which translates to 18 lakhs INR. The Touran is slightly cheaper at  but still translates to 16 lakhs. Both options are very expensive for India.
In such a situation, a VW Polo based mini MPV will be much kinder to the customer's wallet and will set the cash register ringing for Volkswagen India. Either Volkswagen can use the Polo platform to build it, or wait for the MQB platform to arrive before starting out.
Do you agree?
[Source: Theophiluschin.com]