Have you read Skoda's ambitious plans for the next 5 years. If you think those plans were aggressive, you have no idea what the parent company is capable of. VW is thinking big, no actually, it is thinking MASSIVE. The German Czar plans to take over the world automotive market by 2018. Adding to that, the current CEO Martin Winterkorn believes that he can achieve the target sooner than expected.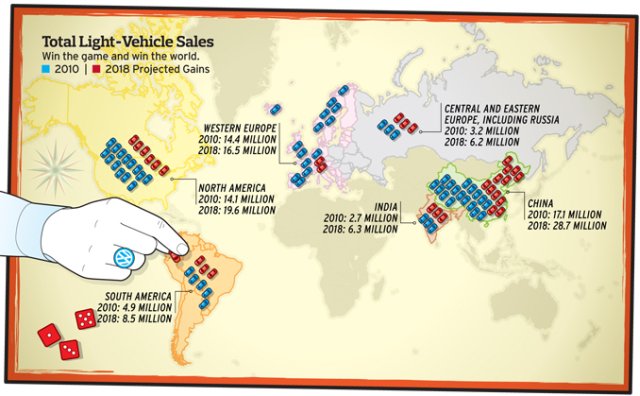 VW is currently the third biggest auto manufacturer in the world having sold 7.14 million vehicles. It is trailing behind Toyota's 8.42 million and GM's 8.39 million. The group has said it aims to sell 10 million vehicles annually by 2018. I am sure you are tempted to know what is the blitzkrieg strategy Ze Germans are going to adopt this time.
Our friends at Car&Driver has exposed VW's plans for world domination and here are some juicy details:
VW is going to adopt a three-way assault on the world automotive market.
US of A: Dethrone GM and Toyota from their fortress
In 2011, VW is projected to sell about 300,000 vehicles here, up 40,000 from 2010 and up 100,000 from two years ago.
The new Jetta is expected to account for 180,000, or more than half, of VW's total sales this year.
Made-in-America Passat will follow the Jetta. VW is preparing to sell about 100,000 of them here next year
Chattanooga Plant has capacity to produce 150,000 vehicles per year which will be expanded to build up to 500,000; all for sale in the U.S. market.
By 2013 or 2014, a 7 seat crossover built from VW's upcoming 'compact modular transverse' architecture will debut with the next Audi A3 and VW Golf.
With these new models, the group hopes to boost VW sales to 800,000 in the U.S. market by 2018 and reach 200,000 by Audi, Porsche, and its other luxury brands.
Europe: Done and Dusted
As the company has already conquered Europe with 2.9 million sales in 2010, the future growth will come from the UP! hatchback which will shake up the mini car segment
BRIC nations: The real fire power
VW will keep introducing new models in China over the next few years.
11.5-percent market share in China could be biggest single contributor to VW's global sales targets.
Struggling in the Indian market, the company has only sold 53,300 vehicles. The biggest challenge on their way to India domination is Maruti Suzuki.
VW, coupled with Skoda, will set up a low cost car development center in India. We can expect a host of future low-cost vehicle architecture and a new low-cost engine from this center.
The shrinking Russian market will be compensated by the growth in the South American markets.
Head over to Car&Driver to read the full story!